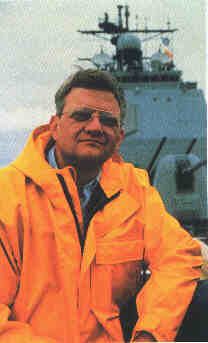 In shocking news, best-selling author Tom Clancy passed away last week at 66. Well, I guess, as everyone dies, someone dying shouldn't be shocking, but it often is. I was really hoping Clancy had another sole-authored book in him, as his last few books all had co-authors. But let's back up.
I first came across Tom Clancy's work through my now deceased uncle James. Out in the country (and swamp country at that), witnessing a grown man reading a book is more rare than witnessing an alligator trudging across your driveway. However, my uncle James, who lived next door, always had an in-progress read on the coffee table. Often, that book was written by Tom Clancy. As I knew no other male readers, Uncle James was my sole reading influence, and I snagged any book he had finished. That meant plowing through the
Hunt for Red October
in the sixth grade, and so on, all the way to Clancy's
Clear and Present Danger
, and skipping ahead to
Rainbow Six
. I say "plow," but it took me forever to finish a Clancy-penned book. Months and months. I could knock out a Michael Crichton novel in a night, but Clancy's books were so dense and detail-oriented and grown up. I think
Clear and Present Danger
had a ten-page aside about how a minor character installed a mini-fridge in his garage.
As college began, and I selected English as my major, I became "too good" for Clancy books. They weren't "literature," written with "artistic integrity" as the goal, and I had better things to read--"critically (English Professorly) lauded over time" things to read. The trend continued into the heady, confusing years after college. As I slowly became bitter about my life choices, though, I began to notice Clancy's
Debt of Honor
nestled on my "unread" shelf. Christmas of 1995, my dear cousin gifted me the 900-page tome, and I had never gotten around to reading it. Finally, in the spring of 2012, I said, "Why not, Tom Clancy? Let's do this again." That spring, I really did plow through
Debt of Honor
. It was an incredibly fun read. I understood the political and military maneuverings far more clearly. I loved every second of it. I enjoyed it as much as any "classic" I had lately read. And my goodness,
Debt of Honor
predicted 9/11 seven years before it actually happened. Clancy's speculative powers bordered on genius. Why had I denied myself this Clancy goodness for so long?
Clancy's
Debt of Honor
ends on a cliffhanger, and now I'm reading its successor,
Executive Orders
, in the spare seconds I currently have to read. It is so much fun. I wish I could pull a couple junior-high style all-nighters and finish it quickly. At some point, I'll probably go back and read
The Sum of All Fears
, the novel I skipped so long ago, as well. But now, Clancy's works have a definite beginning and end. There will be no more Clancy-penned Jack Ryan and John Clark tales. Dangit, Clancy, I was just starting to comprehend what you meant to me. Rest in peace.