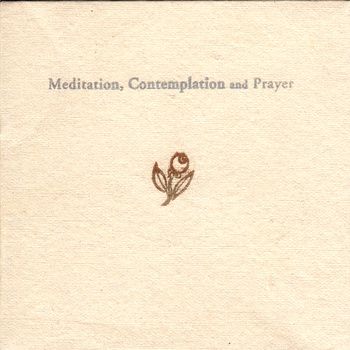 8/10
My music collection contains several wild-cards, and Jesse Eubanks
Meditation, Contemplation, and Prayer
is certainly one of the most prominent. By "wild-card," I mean a rare album that hardly anyone has ever heard of (If it was all "wild cards," I guess I would be a hipster). I came across
Meditation, Contemplation, and Prayer
about a decade ago, after reaching a worship music wall. I wasn't enjoying any of the worship songs I heard in church, nor on the radio, or...anywhere. At the time, just about everything was either too adult contemporary sounding to me, or too "wannabe U2." The thing is, if I want to listen to good U2, I am going to listen to my good U2 albums, not other bands' poor knock offs. I need something different. Well,
Meditation, Contemplation, and Prayer
is something different. It's drone worship.
Drone is sort of like a guitar-based equivalent to Eastern meditation music. It is often one greatly distorted note, held out for the entirety of the song. Eubanks combines this with ambient noise (rain falling, distant conversations), Eastern percussion, and at times, his pleasant, small, singing voice. It's safe to say, if you are looking for an album that sounds like this AND is directed toward worshiping Jesus Christ, this is about your only bet. Thankfully, it is an excellent effort. This dude not only knows what he is doing, but is also clearly passionate about this project. He also had some friends help out quite a bit, and that kind, collaborative spirit is clear throughout the album. I recommend that anyone with an interest outside of CCM check this out. Even if you don't care about the worship aspect, there's still a lot to like here, and most of the songs are instrumental, anyway.
Now that Hillsong isn't trying to be Bono: Australia Edition anymore, good worship music is a lot less difficult to find, but to find something this different, you'd have to search the world over. BUT WAIT--THE FUTURE IS HERE! I had to special order this from Eubanks himself back in the day (the packaging is printed on paper from India), but all you future people can download it in seconds and name your own price at
Eubanks' Bandcamp page
. You lucky astronauts!
2002 Self-Released
1. Creation Cries Out 06:47
2. Rain 06:37
3. In Praise of God 05:13
4. Matthew 11:28 05:27
5. Obscurity 03:48
6. Consolation 05:01
7. Nothing Can Separate Us 05:19
8. A Certain Part of the Soul 04:51
9. Alleluia 02:01
10. Natural 03:40
11. Even to the End of the Age 06:05