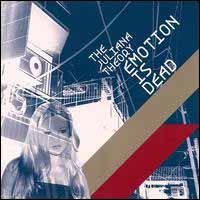 10/10
The third and final installment of this loose review trilogy of artists in "the zone" is on Brett Detar, previously of The Juliana Theory.
Emotion is Dead
is the Juliana Theory's second full-length album. While Detar's bandmates obviously have a lot to do with
Emotion Is Dead
's musical success, Detar always seems to be the band's guiding hand. Also, if I write about the whole band being in the zone, it just throws this whole "person being in the zone" thing off...nevermind, I guess my own narratives aren't as important to me as honesty. The entire five-man Juliana Theory crew is in the zone on
Emotion Is Dead
.
Thing about it is, thirteen years ago, I would have only given this album an eight. My brother won
Emotion Is Dead
from the radio show I was soon to host; I won Switchfoot's
Learning to Breathe
(in my opinion, still the best thing that band ever did) the same week. We split the take, often trading back and forth. I listened to his copy of
Emotion Is Dead
to the point that I just bought my own copy. I enjoyed it a lot, but I also took it for granted (much as I did another album I recently reviewed). For some reason, I assumed all modern rock albums would be thematically cohesive, consistent, capable of creating conflict, capable of resolving that conflict, and able to close out epically. I thought all rock albums could have their own unique, yet diverse sound (
Emotion Is Dead's
reliance on Neil Hebrank's simple, yet beat-heavy and infectious rhythms sounds absolutely revolutionary at this current point in history). It turns out now, it's a miracle if a rock album is just decent. In this day and age,
Emotion Is Dead
is an absolute gem, as it does all the things I just mentioned and more. It presents a consistent flow of emotion, starting in a place of uncertainty, finding happiness, the happiness dissolving, and then everything exploding in a final, unbelievably grand climax.
Emotion Is Dead
doesn't tell a straight story, but it does clearly tell an aurally emotional one that proves its title incorrect and ironic.
Detar and crew are definitely in the zone here. "To the Tune of 5,000 Screaming Children," "Is Patience Still Waiting?" and "If I Told You This Was Killing Me, Would You Stop?" are all immensely enjoyable rockers. "You Always Say, Goodnight, Goodnight" is the kind of closer Pink Floyd wishes it wrote, and yes, I really just typed that. But what really proves The Juliana Theory is in the zone on
Emotion Is Dead
are the songs that should absolutely not work. "We're at the Top of the World (To the Simple Two)" is the kind of over-the-top cheesy love song that should make someone like me vomit...but the only way that could prove true is if I vomited from singing along to hard. I can't listen to that song and not belt out the lyrics (also, if you want to feel awkward, check out Disney's Motocrossed, which features the song at a particularly awkward moment). "Something Isn't Right Here" is essentially a boy band song, featuring Detar and his posse signing together and snapping their fingers, and it should suck so bad, and it doesn't, it's awesome. It's the zone, man. I'm telling you, for this one album, The Juliana Theory were in the zone, and it's A PENNY ON AMAZON. FOR ONE PENNY, PLUS SHIPPING AND HANDLING,
EMOTION IS DEAD
'S BIG GIANT DRUM BEATS, THICK BASSLINESS, GNARLY GUITAR RIFFS, SWEET HARMONIES, AND DETAR SOUNDING LIKE HE MEANS IT CAN BE YOURS. C'MON!
My apologies. This review sniffed a pixie stick.
2000 Tooth & Nail Recoreds
1. Into the Dark 4:03
2. Don't Push Love Away 3:17
3. To the Tune of 5,000 Screaming Children 3:52
4. We're at the Top of the World (To the Simple Two) 3:17
5. Is Patience Still Waiting? 3:51
6. Emotion Is Dead Pt. I 2:04
7. If I Told You This Was Killing Me, Would You Stop? 3:52
8. We're Nothing Without You 4:14
9. Something Isn't Right Here 2:07
10. Understand the Dream Is Over 2:56
11. This Is Your Life 3:35
12. You Always Say Goodnight, Goodnight 9:30
13. Emotion Is Dead Pt. II 4:45