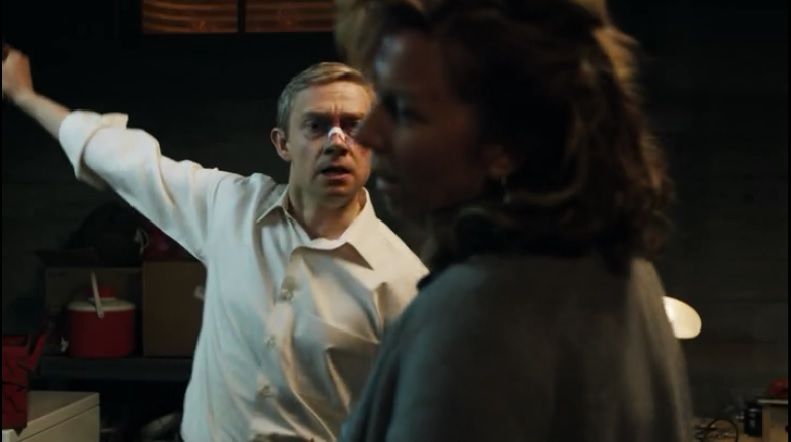 Fargo
2014 FX Networks
Season One
Score: 9/10
"...if you do not do what is right, sin is crouching at your door; it desires to have you..."
-Middle of Genesis 4:7
This particular verse came into my head during one of Billy Bob Thornton's first scenes in the first episode of FX's Fargo. Thornton plays the malevolent, perhaps demonic, Lorne Malvo, a character who delights in subtly turning others to do evil. Fargo, written by Noah Hawley, is based upon the world of Joel and Ethan Coen's film of the same name, but(outside of an answer to a tangent in the film) has nothing to do with that film's story. With that said, Fargo deals with many of the moral and religious themes inherent in the Coen brothers' films, and does great justice to the duo's artistic legacy.
The bad:
All told, an enormous amount of events do not occur across Fargo's ten-episode run. While almost every second is spellbinding, there are a few moments where the viewer may have to remind themselves that little time has passed. One particular character incurs an injury that seems to take forever to heal, until one realizes only weeks have passed in the show's chronology. Also, Fargo's season finale may not satisfy all viewers. A major character who some viewers may want to see in the center of the action is sidelined. However, in defense of this narrative decision, the final conflict does actually take place between the two characters with whom it began.
The good:
Where to begin? Fargo features flawless performances from its lead and auxiliary actors. The show's creators reap a great reward for risking Fargo's lead role with a newcomer. As Police Deputy, Molly Solverson, Allison Tolman turns in impeccable work, perfectly realizing Solverson's determination and frustration. Tolman should easily find work in this line for the rest of her life. Martin Freeman, who has now been the lead in one of the most highly regarded comedies series of all time (UK's The Office), as well as the lead in adaptations of two of the most beloved books of all time (Hitchhiker's Guide to the Galaxy and The Hobbit), Watson in BBC's Sherlock, and some guy in this Christmas-themed romantic comedy my wife made me watch once, plays Lester Nygaard, a bumbling, gentle man transformed into a monster through only one short conversation with Thornton's Malvo. Freeman has slowly become one of the most well-traveled actors of his generation, and with good reason. This character is the antithesis of most Freeman has played, but he is just as believable in the part. Rounding out the cast is Colin Hanks, who turns in solid work as Gus Grimly, a bastion of goodness, and the aforementioned, chameleon-like Thornton as Malvo. The secondary cast, including Bob Odenkirk (Saul from Breaking Bad), Keith Carradine, and Joey King, among others, all perform ably. Fargo's cinematography is gorgeous, on par with anything in the theater, and the direction is keen. Music is apt...I'm feeling redundant here...every element of craftsmanship regarding this show is top notch.
Thematically, Fargo tackles topics familiar to any fan of the Coen brother's work. The everyday battle of good and evil in the average human is explored in depth, as well as both the gulfs and ditches between the two. The concept of justice is also thoroughly dissected, and yet...even if one couldn't care less about any kind of philosophical or moral exploration, Fargo's story is just as engaging. People do bad things, and other people try to catch them.
Fargo is compared heavily to fellow limited-series, True Detective (both series run for only ten episodes, feature movie stars, and will be followed by unconnected, completely recast second seasons). Fargo shares one of that show's greatest assets--ambiguity as to the true nature of the villain. True Detective gives the viewer ample evidence that its villains' misdeeds could have supernatural implications, but also indicates that might not be the case at all. Likewise, Fargo's Malvo could be a very wicked man, but the show also hints that he could be an embodiment of the devil himself. His line after enjoying dessert at a diner, "Haven't had a piece of pie like that since the Garden of Eden," is particularly delicious for those who prefer to give the TV they watch a deeper analysis, and is one of many such moments.
Finally, as I've just mentioned True Detective, I feel like I should weigh in on the Fargo vs. True Detective debate. While both are enjoyable shows, I think Fargo is the better of the two. Fargo features a bit more thematic substance (not that True Detective is light in that department), and also shows more respect to its characters. While admittedly, True Detective inhabits a grayer realm of the moral spectrum than Fargo, Fargo is still able to blur the lines without dragging everyone on screen through the mud. While this may not be a heralded quality, I think it is an underrated one, and a noble one. True Detective is a good show, but Fargo is a great one. Though Fargo isn't quite perfect, I feel that I can't recommend it enough.