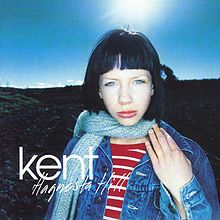 Swedish Edition:
8/10
English Edition:
9/10
If we're taking a Radiohead comparison here, Kent go straight from their
The Bends
to
Hail to the Thief
with
Hagnesta Hill
. If we're not taking a Radiohead comparison here, and considering Kent's criticism's are cultural and not political, and considering Kent are a lot more interested in writing songs about romantic relationships than Radiohead, maybe we shouldn't...this sentence has gotten out of control. All that to say, at 13 songs and 64 minutes,
Hagnesta Hill
is a very long rock album, both more straightforward than its predecessor, and somehow more full of ideas. After
Hagnesta Hill
's release, Kent frontman, Joakim Berg, voiced displeasure with the album's length, feeling it was overstuffed. This is more true of the original Swedish version than the later English version, even though the English edition is longer. In regard to the English version, the band and producers did a good job of removing a few tracks that sapped momentum in the Swedish one. They then added some that increased it, then rearranged the whole thing to give it a much better flow. The result is a highly enjoyable album that does go on a little too long, but delivers again and again and again. Berg's criticisms of our increasingly technology consumed, frequently disconnected culture are just as apt today as they were 15 years ago, and his transposition of this with a portrait of a decaying relationship is excellent. "
Your voice disappears on a bad connection/it gets lonely out here/I need protection, please/are you protecting me?
" goes "Protection," before the particularly heart-rending lines "
Now I found a way to make you smile/pretending I am someone else/cause I really missed your smile/more than I missed myself
." The\ running theme and story come to a fitting end on the album's final track, "Whistle Song." This was Kent's second and final album to be recorded in English, and with lyrics like "Whistle Song's," it's a shame for us non-Swedish speakers.
She is talking through a yawn
And the radio is on
I listen through the thin walls
Someone is whistling along
There is something in the air
Squeezing out sparks
The strip-light flickers and then dies
And leaves us in the dark
The great, horn-led outro to this eight-minute opus is earned, a final great little touch on an album full of great little touches. This is what sets Kent apart from its competition. It also makes Kent sound like a bunch of perverts. Sorry, Kent, I was trying to praise you.
1999/2000 BMG
1. The King Is Dead 4:17
2. Revolt III 3:10
3. Music Non Stop 4:34
4. Kevlar Soul 4:29
5. Stop Me June (Little Ego) 6:22
6. Heavenly Junkies 4:04
7. Stay With Me 3:58
8. Quiet Heart 5:25
9. Just Like Money 4:16
10. Rollercoaster 4:54
11. Protection 4:46
12. Cowboys 4:08
13. Whistle Song 7:47