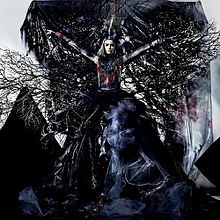 9/10
After all these Kent reviews, I'd hate to end on a sour note. Good thing I don't have to. Tigerdrottningen (in English, "The Tiger Queen"), Kent's eleventh full-length album, is a return to the more exciting, sexier, cooler world Kent inhabited at the peak of their career. Frontman, Joakim Berg, has plenty of muses for inspiration here, as nearly every track prominently features female vocals. While the band have dabbled with this in the past,
Tigerdrottningen
sees Berg virtually splitting the microphone, and the results energize Kent's sound. Also, it's fun to say
Tigerdrottningen
.
Finally...well, not finally, because this review is turning out to be really short. I mean, the band keep the dance-pop vibe they've been hanging out with for the last seven years, but
Tigerdrottningen
does an excellent job of melding it with their former rocking sound, and adding a feeling of newness with all the lady-singing. That about sums it up.
SO...finally, in addition to the return of the cool factor, Kent bring back what was once a band trademark--a powerful closer. 2005's
Du & Jag Döden
was the last Kent album to even attempt such a thing, but in truth, "Den andra sidan" is the most powerful closer Kent have recorded since 1999's "Whistle Song." So on that note, here's to another 11 albums, and to
Tigerdrottningen
, one of only a few 2014 albums The Nicsperiment has not found to be a crushing disappointment.
2014 Universal
1. Mirage 5:35
2. Var är vi nu? (Where Are We Now?) 4:20
3. Skogarna (The Forests) 3:51
4. La Belle Epoque 3:58
5. Svart snö (Black Snow) 4:08
6. Allt har sin tid (There Is a Time for Everything) 5:12
7. Innan himlen faller ner (Before the Sky Falls Down) 3:52
8. Din enda vän (Your Only Friend) 4:19
9. Godhet (Goodness) (with Beatrice Eli) 4:22
10. Simmaren (The Swimmer) 3:55
11. Den andra sidan (The Other Side) 5:04