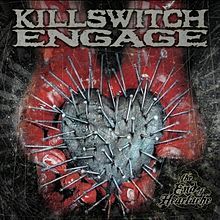 8/10
A decade ago, every other touring band was not a metalcore band (metalcore combines metal with hardcore), and after a decade of every other touring band being a metalcore band, every other touring band is again not a metalcore band. Killswitch Engage released two albums before 2004's
The End of Heartache
, but
The End of Heartache
, featuring new vocalist, Howard Jones, is the band's breakout album. Around the same time, screamo was huge, as bands like Underoath found huge success by combining their screaming vocals with a guy (always with asymmetrical hair covering one eye) who sang like a princess. Killswitch Engage, considerably heavier than any of the "screamo" bands of the time, matched their screaming vocals with singing, as well: Man-singing. Howard Jones sounds like he can punch off your face whether he is shredding his throat for Killswitch Engage, or belting out notes. The band backing him write a bunch of driving, energetic, heavy songs that also feature slick melodic moments, and sweet guitar solos.
The End of Heartache
sounded fresh in 2004 (so fresh, the band essentially re-made it, twice), and it stills sounds good today. Maybe that's why Killswitch Engage are still going strong today, while all the screamo bands have either broken up, or splintered into folk acts...while that's cool.
2004 Roadrunner
1. A Bid Farewell 3:55
2. Take This Oath 3:46
3. When Darkness Falls 3:52
4. Rose of Sharyn 3:36
5. Inhale 1:15
6. Breathe Life 3:18
7. The End of Heartache 4:58
8. Declaration 3:01
9. World Ablaze 5:00
10. And Embers Rise 1:11
11. Wasted Sacrifice 4:18
12. Hope Is... 4:21