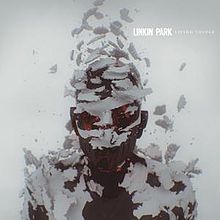 8/10
Amount of songs on Linkin Park's first two albums over four minutes long: 0
Amount of songs on Linkin Park's fourth album,
A Thousand Suns
, over four minutes long: 7
It's safe to say that over the course of four albums, Linkin Park evolved quite a bit. Their first two albums perfected the rap/rock dynamic, the third found the band in limbo, and the fourth featured the band exploding their boundaries, stretching their sound in a more electronic direction. While
A Thousand Suns
has a few fun moments, it is a mostly serious affair, with the longer song lengths allowing the band to expound upon their heavier lyrical concepts. Four their fifth album,
Living Things
, Linkin Park head even further in an electronic direction, but drop ponderousness for pure fun and three minute thrills. Not one song here tops the four-minute mark, as each dancey track makes its point and slips into the next. Because of this,
Living Things
is the most enjoyable of Linkin Park's albums...outside of the first two. Its exuberant energy is infectious, but the band still find time to continue their restless experimentation within these smaller frameworks. Most surprising is the 1:52 "Victimized," featuring a simple shouted chorus (written in all-caps in the lyrics, further proving the band are having good fun), and guitar and drum-shredding coupled with some weirdly awesome electronic siren sound on the outro.
Living Things
only flaw is that it lets off the gas a bit in the final half (after "Victimized") and loses just a little momentum. Still, as Linkin Park's "party album"
Living Things
gets the job done.
2012 Warner Bros.
1. Lost in the Echo 3:25
2. In My Remains 3:20
3. Burn It Down 3:50
4. Lies Greed Misery 2:27
5. I'll Be Gone 3:31
6. Castle of Glass 3:25
7. Victimized 1:46
8. Roads Untraveled 3:49
9. Skin to Bone 2:48
10. Until It Breaks 3:43
11. Tinfoil 1:11
12. Powerless 3:44