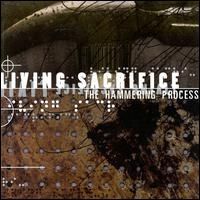 9/10
Here is yet another album that makes me miss the golden age of Christian rock (mid 90's-early 00's). Living Sacrifice is a heavy band out of Arkansas. Their early material was thrashy heavy metal, but by the start of the new century, Living Sacrifice evolved into the best version of themselves.
The Hammering Process
is a heavy, heavy album, but it injects far more melody and interesting rhythms than Living Sac's earlier albums (We loved saying Living Sac. Who doesn't?). The introduction of singing (on only a few tracks, and not sacrificing any of the darkness of Living Sacrifice's sound), and the diverse work of percussionist, Matt Putman (ranging from tribal to industrial sounds, to just filling out the already killer drum work by Lance Garvin), broadens the scope of Living Sacrifice's sound, and helps to create a far more listenable, enjoyable, and well-flowing album experience than Living Sacrifice's previous albums (not that the previous albums aren't listenable or enjoyable, just that
The Hammering Process
is more so wow this is a long sentence. I've always wanted to write a review that contained more parenthetical than non-parenthetical words. I think this review is my chance, buy I've said almost everything I want to say, already. I will say this: I'm hungry. Like really, really hungry and feeling lightheaded, which is probably why I can only speak in parentheticals right now. I think I am going to go try City Pork Deli & Charcuterie because the buzz for that place is so good, I either have to prove it wrong, or enjoy what is apparently the greatest sandwich a man can consume. Both of those things sound fun, plus, I won't be so hungry anymore, and I added the "so" because I am always hungry, regardless of what I eat. Maybe I'll hit up Mr. Ronnie's donuts after that. That could be nice. I don't have to go in to work for three hours. Three solid hours of eating could be really fun. Alright, it's time to get out of here. Should I make a new paragraph for the closing statement? Yeah, that's probably a good idea).
I can't say that listening to
The Hammering Process
makes me sad for a lost age, though, when Living Sacrifice has now been un-broken up for six years, and recently released their second album since reformation, which I will review, right after this sandwich. I hope that album,
Ghost Thief
, is good, but it will take a lot to top
The Hammering Process
' mid-section (the combination of "Altered Life"'s chorus with "Hand of the Dead"'s surprise sung bridge, and "Burn the End"'s Spanish guitar solo breakdown will be tough to beat).
2000 Solid State Records
1. Flatline 3:20
2. Bloodwork 4:14
3. Not My Own 3:12
4. Local Vengeance Killing 3:07
5. Altered Life 4:46
6. Hand of the Dead 3:33
7. Burn the End 4:58
8. Hidden 3:52
9. Perfect 2:53
10. Conditional 5:00