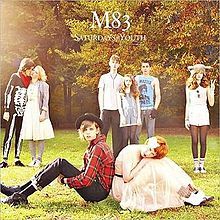 7/10
M83 is essentially a solo project for Frenchman, Anthony Gonzalez. M83 is very keyboard-centric, but Gonzalez plays guitar, as well.
Saturdays = Youth's
sound is thick and full of echo. The intended vibe is definitely the 80's, and on
Saturdays = Youth
, Gonzalez conjures the musical emotions of that decade quite well. Perhaps too well, as
Saturdays = Youth
, with its sometimes ten-minute swells of keyboard noise, is more a presentation of texture and atmosphere than a collection of songs. What songs do exist in this 62-minute cavern of reverb are pretty good, though, particularly "Kim & Jessie," whose accompanying video is a perfect visual exploration of the 80's ambiance evoked by
Saturdays = Youth
.
2008 Virgin/EMI Records/Mute
1. You, Appearing 3:39
2. Kim & Jessie 5:23
3. Skin of the Night 6:12
4. Graveyard Girl 4:51
5. Couleurs 8:34
6. Up! 4:27
7. We Own the Sky 5:02
8. Highway of Endless Dreams 4:35
9. Too Late 5:00
10. Dark Moves of Love 3:18
11. Midnight Souls Still Remain 11:11