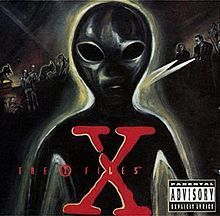 7/10
I have very fond memories of looking at the back of
Songs in the Key of X
's CD case while hanging out at the Blockbuster Music (later converted to a Wherehouse Music...then FYE) as a teenager. The names of the songs and bands just seemed so dark..."Unmarked Helicopters" by Soul Coughing...a soul coughing?...scary, man! The jewel case featured a parental advisory, and I knew one thing immediately...I needed to start watching The X-Files regularly.
I had watched a couple of episodes before with my good old Uncle Steve, but I was a little scared that if I tried to watch the show at home, my mom would think it was too scary or something and complain about it. But wonder of wonders...in those days, my mom was almost never home! A few weeks after
Songs In the Key of X
was released, I became a regular X-Files viewer, and the rest, including naming my firstborn after the protagonist of the show, is history. I have the cover art and tracklisting of this album to thank for all of it.
The funny thing is, I never actually purchased this CD back in the 90's. It wasn't until years later, when the show had been off the air for nearly a decade, that I remembered the impetus for my fandom, and purchased
Songs in the Key of X
for a penny off of Amazon.
Many soundtracks claim to be "Inspired by the Film," but in this case, the title is true (well, "Inspired by the Television Program"). Most of
Songs in the Key of X
was created by artists who are fans of The X-Files, and the lyrical subject matter (generally involving strange occurrences) is evidence. The album was released near the end of X-Files third season, in the Spring of 1996. What lovely days those were.
Listening to
Songs in the Key of X
for this week of reviews, 19 years after its release, the album is...interesting. How about a classic, track-by-track style review. I'm not asking.
-2. Time Jesum Transeuntum Et Non Riverentum by Nick Cave and Dirty Three
: Yes, that's right, "-2."
Songs in the Key of X
exploits the format it was created for to the max, utilizing the compact disc's "pre-gap." This means that if one rewinds the CD right when it is put into the player, one can reach two hidden tracks by Cave and his band of weirdos. This is a nightmare for anyone attempting to digitize the album, but a dream for the ears of anyone with good taste, as this and
-1. X-Files Theme Cover
, also by Nick Cave and Dirty Three are by far
Songs in the Key of X
's strongest tracks. They are also its most timeless. While the majority of the songs I'm about to review are performed in the guitar-rock style of the time, Nick Cave and Dirty Three's two tracks here are haunting, violin-led wanderings through a dark, blighted forest. Cave's ghostly lyrics and piano playing on "Time Jesum Transeuntum Et Non Riverentum" set just the tone one would expect for an album inspired by one of the scariest shows to ever air on network television. Following "Time Jesum...,"the group's previously-mentioned cover does justice to The X-Files iconic theme song, while changing it to such an original degree that their version is vital, as well.
1. X-Files Theme (Main Title) by Mark Snow:
And speaking of that theme, here it is in all its glory. Placed on as many "Greatest TV Theme Song" lists as "Most Annoying TV Theme Song" lists, the whistle and piano trade-offs of Mark Snow's timeless, most well-known creation are sure to stick in the listener's head. Presented uncut here, the theme's additional two-minutes, not heard on broadcast, feature a more playful vibe only hinted by the opening minute, while not sacrificing any of the piece's darkness or mystery. I've listened to this piece of music about 1,000 times in my life, and God-willing, I'll listen to it 1,000 more.
2. Unmarked Helicopters by Soul Coughing:
I mentioned timeless to describe the first three tracks for a reason--large portions of the rest of this album are not. "Unmarked Helicopters" arrives like a falling parachute emblazoned with the words WELCOME TO THE 90's, as Mike Doughty's vocal-style could only have been performed in that decade. "Unmarked Helicopters" is actually an enjoyable song, but it isn't dark in the least, outside of the lyrics, which fit The X-Files quite well.
3. On the Outside by Sheryl Crow:
This song is quite a happy surprise. One does not expect "dark" from Sheryl Crow, but the creeping minimalism of "On the Outside" does the trick. Though I'm not a fan of the vast majority of Crow's work (cool last name, though!), I enjoy this song, and I don't hate her theme song for the James Bond film, Tomorrow Never Dies. Weird.
4. Down in the Park by Foo Fighters:
Recent fans of Foo Fighters may be surprised to hear their raw, fuzzed out contribution to this soundtrack. However, this album hearkens back to a day where Dave Grohl was better known as "the drummer from Nirvana," and Foo Fighters, at least to my recollection of 1996, as "the new band by the drummer from Nirvana." "Down in the Park," a Gary Numan cover, suits this darker, grungier version of Foo Fighters quite well, and Numan's lyrics fit the X-Files bill.
5. Star Me Kitten by William S. Burroughs & R.E.M.:
The X-Files is a weird show and "Star Me Kitten" is a weird song. R.E.M.'s music sounds like the backing track for one of those late night "Magic Healing Rag" infomercials, and the opening line, "Keys cut, three for the price of one," seems to support such an idea. The line is read-sung by William S. Burroughs, who sounds like a crazy, end-times street preacher throughout, particularly during the song's profane finale. The music and words clash unsettlingly, though "Star Me Kitten" fits the soundtrack by basis of weirdness alone.
6. Red Right Hand by Nick Cave and the Bad Seeds:
"Red Right Hand" is one of the few songs on this soundtrack to have actually been featured on the show beforehand. Indeed, the season two scene from the episode, "Ascension," might be The X-Files most iconic musical moment. Show creator, Chris Carter, actually uses
Songs in the Key of X
's liner notes to explain how "Red Right Hand" inspired the creation of this collection of music. The bass and organ led "Red Right Hand" is most likely the standout song of Nick Cave's standout career, and one of my favorite songs of the 90's.
7. Thanks Bro by Filter:
When I
reviewed Filter's Short Bus
, I described its "Stuck in Here" as a song where "one can easily visualize sitting in a moldering room housing all the burnt out, barely operating artifacts of the 20th Century, as this crackles from a rusting phonograph." "Thanks Bro" follows suit (there is literally an old song crackling out of a phonograph in the background), forgoing the usual jackhammer Filter sound for brooding minimalism, Unlike "Stuck in Here,"though, "Thanks Bro" builds to a cathartic, if still subdued finale.
8. Man of Steel by Frank Black:
I didn't even realize Frank Black was the frontman for the Pixies until I researched the song for this review, and that is because there is absolutely nothing special about "Man of Steel." It is just a generic 90's rock song that slides in one ear and out the other, and it does not match the feeling of The X-Files in any way, shape, or form.
9. Unexplained by Meat Puppets:
"Unexplained" does not slide in one ear and out the other because it is absolutely terrible. The only real stinker out of the bunch, "Unexplained" features a cloying, repetitive, circular chorus that just won't end, and I almost ripped the CD out of the player and threw it out the window. These are the same Meat Puppets that filled out Nirvana's live band for their incredible "MTV Unplugged" album, one of my all-time favorites. I have no idea how Meat Puppets composed something so horrible, but if I haven't driven the point home yet, "Unexplained" is really, really terrible, and like "Man of Steel," does nothing to conjure the mood of the show upon whose soundtrack it finds itself...even though the song is called "Unexplained."
10. Deep by Danzig:
Now here is a song that sounds like it would be in an episode of X-Files, and indeed, it is (Season 3's "Syzygy"). "Deep" sounds like you are in a dirty, rusty, freak-inhabited hallway at night, and Danzig is chasing you with an axe. Awesome.
11. Frenzy by Screamin' Jay Hawkins:
Speaking of freaks, "Frenzy" appears in the classic Season 2 episode, "Humbug." Originally recorded in 1957, "Frenzy" features Hawkins' classic manic, shouted, burbling delivery, perfect for the carnival-set episode it backed, and perfect for this collection. If Screamin' Jay Hawkins doesn't ring a bell, you might know him from his his yesteryear hit, "I Put a Spell on You."
12. My Dark Life by Elvis Costello, with Brian Eno:
If you think Elvis Costello's name doesn't exactly scream X-Files, you're on to something. "My Dark Life" is an unusual song, but Costello's smooth, comforting delivery, despite being backed by some decently spooky Brian Eno synths, just does not fit here.
13. Hands of Death (Burn Baby Burn) by Rob Zombie and Alice Cooper:
"Hands of Death," however, does fit here, with the shock-rock dream-team of Zombie and Cooper sounding the part. Zombie could really produce a satisfyingly meaty guitar tone, and the song is heavy, while still being a lot of fun (it got nominated for a Grammy). My only complaint, and I feel like a grandpa for saying this, is that I can't understand anything the two are singing.
14. If You Never Say Goodbye by P.M. Dawn:
Another weird choice...isn't P.M. Dawn a hip-hop group? This is apparently not
that
"P.M. Dawn." I think I would have preferred the rappers. The lyrics for "If You Never Say Goodbye" are probably the darkest found within this collection, but the song sounds like what would happen if instead of men, Boy George was sexually attracted to flanger pedals.
15. X-Files Theme (P.M. Dawn Remix)
: After Nick Cave and Dirty Three's outstanding re-imagining of the show's theme, P.M. Dawn, who bafflingly get to contribute two tracks to this disc, try their hand. However, in light of the excellence of the two other version's present on this disc, P.M. Dawn's goofy, disco twist sounds a bit silly. Sorry, P.M. Dawn.
And that's it. If I may, and I will, for who can stop me, I will mention some curious omissions. I really think James' "Ring the Bells," from Season 3's "DPO," should have been included. That moment is incredible, catching my ear back-in-the-day, and my wife's ear years later, when we were in the midst of our three-year long X-Files honeymoon. It is also strange that Filter's "Hey Man Nice Shot," also from "DPO," is not included, though that song was perhaps already too ubiquitous to be featured. "Thanks Bro" fits better, anyway.
Finally, a note on the packaging. My case includes a small catalog insert of 1996 X-Files merchandise for sale, i.e. X-Files' coffee mugs (when you fill them up with coffee, they say 'Trust No One!"), clothing, and an invitation to join The Official X-Files Fan Club, all available by mail order. I wonder what would happen if I sent this off to:
Creation/XWR
411 N Central Ave #300
Glendale, CA 91203
(Allow 4-6 Weeks for Delivery)
Has someone been sitting in a warehouse for 19 years awaiting my order?
Also, the foldout artwork included in the CD booklet, particularly an illustration of The X-Files Rogues Gallery by Sue Coe, is incredible.
So in conclusion,
Songs in the Key of X
, despite its considerable week points, really accomplishes what a physical musical release should. It is mainly composed of tracks that can only be found on itself. It includes material that essentially disables the album from being burned, intensifying its importance as an actual physical release. Finally, it includes exclusive, beautiful artwork that fans will want to own. And it costs a penny on Amazon.
A PENNY.
1996 Warner Bros
-2. Time Jesum Transeuntum Et Non Riverentum by Nick Cave and Dirty Three 6:26
-1. The X-Files Theme Cover by Nick Cave and Dirty Three 2:52
1. X-Files Theme (Main Title) by Mark Snow 3:24
2. Unmarked Helicopters by Soul Coughing 3:22
3. On the Outside by Sheryl Crow 4:36
4. Down in the Park by Foo Fighters 4:04
5. Star Me Kitten by William S. Burroughs & R.E.M. 3:30
6. Red Right Hand by Nick Cave and the Bad Seeds 6:11
7. Thanks Bro by Filter 4:10
8. Man of Steel by Frank Black 4:59
9. Unexplained by Meat Puppets 3:44
10. Deep by Danzig 3:50
11. Frenzy by Screamin' Jay Hawkins 2:10
12. My Dark Life by Elvis Costello with Brian Eno 6:20
13. Hands of Death (Burn Baby Burn) by Rob Zombie and Alice Cooper 4:12
14. If You Never Say Goodbye by P.M. Dawn 4:06
15. X-Files Theme (P.M. Dawn Remix) by P.M. Dawn 3:59