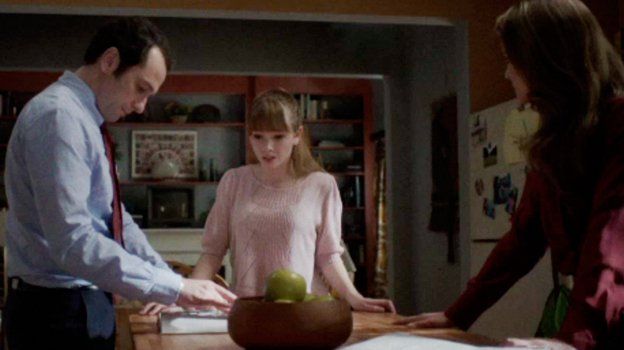 The Americans
2014 FX Networks
Season Two
Score: 9/10
With the third season of FX's The Americans currently airing, I thought I should do a quick review of last year's season to get anyone who wants to jump in up to speed.
The Americans centers on the Jennings' family. Parents, Phillip and Elizabeth, are Russian agents embedded into suburban America. Their children, Paige and Henry, are clueless, but Paige is starting to suspect that something about her family is terribly wrong. The series is set in the early 1980's, the last full decade of The Cold War.
The Good:
The complexities of such a situation are explored in full, but more than anything, this show is about marriage, duty, and parenthood. Phillip and Elizabeth begin the show as two people forced together, but after decades in the same bed, they have eventually fallen in lve. Unfortunately, part of their job is dressing up in disguises and sleeping with other people...sexual politics taken to an extreme. The two of them are also supposed to be communists, but Phillip has grown to love the freedom America provides, and finds his loyalty to Mother Russia somewhat wavering in light of his loyalty to his children. Elizabeth, however, is a stone, immovable in her Marxist faith and devotion to the USSR. Keri Russell stomps away the idea that Felicity is her signature role, as her work on The Americans as Elizabeth is stunning. Not only does she make it believable that this barely 100-pound woman can take down a man twice her size, but the vulnerability she shows in Elizabeth's marriage, counterbalanced by her ice cold, unwavering commitment to her cause makes for one of the most nuanced performances on television. Special attention should also be given to Matthew Rhys as Phillip, who slowly breaks down throughout the season, after witnessing the aftermath of the murder of a comrade's family. The two child actors also do a good job, with Holly Taylor as the older Paige receiving the lion's share of dramatic duties. Paige finds religion in this second season, the enemy of what Phillip and Elizabeth believe, and their conflict with her is believably, and sometimes harrowingly portrayed. I can't think of another show where the father-figure rips up his daughter's Bible in front of her, while barking, "You respect Jesus, but not us?!" The awesome thing about this is that everything in The Americans is so fully-realized and true to life that Paige's faith is actually treated as a real thing. Her Youth Pastor is portrayed as someone actually passionate about what he believes in, helping the children under his care instead of simply fulfilling the general child-molester cliche that unimaginative television writers often settle for. The Americans also explores the marriage dissolution of the CIA agent on the other side of the battlefield. As Stan Beeman, Noah Emmerich gives a quiet, devastating performance. He is a man completely lost in his work...and friends with people he does not even realize are his enemies. In what was perhaps Season One's only weakness, simply by its extreme coincidence, Agent Beeman lives across the street from the Jennings--a ripe target for them to turn, yet at the same time, the greatest threat to their safety. The show features numerous other characters, a million complex moving pieces, and it masterfully handles all of them, as well as every labyrinthine plot and scheme that could go with the Cold War spy-work of the era. It also captures the 80's in a startling gray, far from the flashy feathered hair of lazier shows. The soundtrack is an 80's music lovers dream, as well...Peter Gabriel abounds.
The Bad:
Literally one scene in the entire season knocks the overall score from perfect, and just barely, at that. It is a scene of exposition, featuring a dying character who gives a really, really long plot explanation. The scene, from the season's finale, could have been handled better, as this person seems to be in the process of gasping their last breathe for minutes on end. Their explanation of earlier events could have perhaps been more naturally given throughout the episode. That's it, though. Other than that, this is a landmark season of television.
The Conclusion:
The Americans is one of the most complex, nuanced programs on TV. It tackles moral and emotional issues few shows would ever even touch from a distance, and with aplomb. The show's quiet, thoughtful pace may throw off viewers expecting explosions and punches every minute, but there is nothing else like it out there. This is one of the most rewarding television experiences of the whatever this decade is called.