9/10
Most Mars Volta Lyric:
Dolls wreck the minced meat of pupils/cast in oblong arms length
My Backstory:
During my nine-month migraine, in the second of my three semesters as a senior at LSU in pursuit of my first bachelors degree, in the spring in the year of our Lord 2004, I somehow made it to Craig and Hannah's house and they told me to buy The Mars Volta's debut album,
De-Loused in the Comatorium
. They had never been wrong before, and they weren't wrong then. I picked up
De-Loused in the Comatorium
from Best Buy (along with the film Shattered Glass, which proves that Hayden Christensen can actually act, and that George Lucas really is that bad of a director), put it in my car stereo blind...I don't mean that I couldn't see, despite the splitting headache, but that I had never heard one single note recorded by The Mars Volta. Within two minutes, I knew I was listening to something special. Thanks, Craig and Hannah, even though I haven't spoken to you in four years, and you never, to my knowledge, bought another Mars Volta album. Since then, I've bought them all from Best Buy the week they were released (with one exception), on sale price. I love the Mars Volta, and over this indefinable span of time that I review their six albums, I will attempt to explain why.
The Album Concept:
According to the Wikipedia entry, and not cited in any way,
De-Loused in the Comatorium
is the story of Cerpin Taxt, a man who "...enters a week-long coma after overdosing on a mixture of morphine and rat poison. The story of Cerpin Taxt alludes to the death of El Paso, Texas artist — and Bixler-Zavala's friend — Julio Venegas (1972–1996)." Thankfully, I can vouch for this--I remember reading interviews with vocalist, Cedric Bixler Zavala, from 2003-2004 that confirmed the story to be true. Like Wikipedia, I won't cite those interviews...and like it matters--at this point in the band's career, Bixler-Zavala's lyrics are just a mish-mash of bizarre phrases that paint more of a mood or feeling than tell a story.
The Music:
Something I've come to love the most about The Mars Volta: all six of their albums have their own unique feeling, yet they all sound like no other band but The Mars Volta, and they are all almost shockingly consistent in their quality. The Mars Volta are generally considered a progressive rock band, as some of their songs reach long lengths (the longest here clocks more than twelve minutes), the musicianship is virtuoso, and their albums feature plenty of solos. However, some critics, mainly the kind that only post snarky comments on other people's reviews, have tagged The Mars Volta with the moniker "mall-prog." This is because The Mars Volta's music is accessible and actually fun to listen to. The band can write an eight-minute song (and just one album later, a 32-minute song) that still contains a killer hook. Basically, The Mars Volta are insanely talented and experimental, while still creating music that the average person might want to listen to. Such a style does not suit snobbery well. Just check out The Mars Volta's
Pit
chf
ork
sco
res
(from some reason, they skipped out on the last one).
De-Loused in the Comatorium
is The Mars Volta's full-length introduction to the world. Its first real track introduces Bixler-Zavla's sky-high, cartwheeling vocals, guitarist Omar Rodríguez-López's dextrous, unpredictable fretwork, Jon Theodore's "He's gotta be an octopus!" drum work, and Isaiah Ikey Owens psychedelic keys. Oh, yeah, and some dude named Flea played bass for this album. This dude Flea's buddy, John Frusciante, also tags along for a few guitar solos. Latin percussion dominates throughout.
With all of that set up out of the way, I can be a bit more spare in describing what sets
De-Loused
apart from the rest of Mars Volta's equally unique discography. Perhaps due to the nature of the concept,
De-Loused in the Comatorium
is a bit more emotional than its counterparts in The Mars Volta discography. The lyrics, with music reflecting, point to things being physically out of whack. I must say that I took particular solace in "Cicatriz ESP"'s "
I've defected
" chorus line in 2004, feeling at the time that a chip in the pain center of my brain had come loose (a few months later, I'd be fine and still jamming this, but that time is recorded in depth
here.
Good times!).
Cicatriz ESP
in particular highlights the greatness of this album. The music can be dense and daunting, yet fall out for relaxed, airy, sometimes watery passages that can be quite relaxing amid the chaos.
Cicatriz
's middle is full of this calmness, then shifts to an awe-inspiring sequence of three guitars solo'ing at once before going back to the song's intense main section. This song, and most of the rest of the album also features a strong Latin feel, most heavily espoused by percussion work, but also by some of the scales played on the guitar, the melodies sung by Bixler-Zavala, and Jon Theodore's drum work. All of this together creates quite an epic feeling at times, as if
De-Loused
is heading toward something huge, and the lyrics of the album's frenzied outro:
Who brought me here
Forsaken, depraved and wrought with fear
Who turned it off
The last thing I remember now
Who brought me here
feel like a revelation.
Both sides of this album, the beautiful lucid dream and the nightmare are represented by the alternating album covers. The main cover is featured above, but below is a photo of the album cover when the reversible CD booklet is turned around. Like
De-Loused in the Comatorium
itself, it is a breath of fresh air.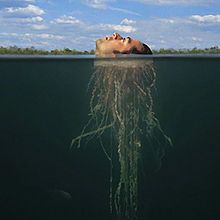 2003 Gold Standard Laboratories/Universal Records
1. Son et Lumière 1:35
2. Inertiatic ESP 4:24
3. Roulette Dares (The Haunt of) 7:31
4. Tira Me a las Arañas ("Throw Me to the Spiders") 1:28
5. Drunkship of Lanterns 7:06
6. Eriatarka 6:20
7. Cicatriz ESP 12:29
8. This Apparatus Must Be Unearthed 4:58
9. Televators 6:19
10. Take the Veil Cerpin Taxt 8:42