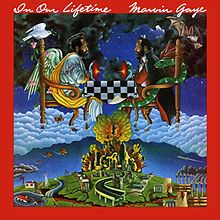 7/10
Marvin Gaye's penultimate album,
In Our Lifetime
, is an absolute mess. Fittingly, Marvin's personal life was an absolute mess, as well. Both of his marriages had failed, and due to his crippling cocaine habit, he was short on cash. This made him even more insufferable, as while his reliability decreased inversely with his mooching for drug money, he seemed confused as to why anyone could ever be upset with him. That's why you shouldn't do drugs, kids.
Eventually, Marvin's record company grew tired of his meanderings. They'd already blown a ton of money on a disco record Marvin had scrapped at the last second. Eventually, Marvin's session and touring bassist, Frank Blair, snatched the recordings of a concept record Marvin was putting the finishing touches on, and took them to the label. The label edited the recordings as they saw fit, and released them as
In Our Lifetime
.
Marvin was actually going to call the album
In Our Lifetime?
, the question mark fitting considering all of the pondering the album contains. It's hard to blame Frank Blair or Tamla (really Motown, of which Tamla was a subsidiary), though. In Blair's case, the bass-playing is probably
In Our Lifetime
's finest aspect. In Tamla's case, it's pretty tough to watch someone blow all your money without seeing any profit. Either way, it's hard to grieve the results. I'm not sure this album would have ended up among Marvin's best with his editing in place of the label's. The basic songs just aren't on par with Marvin's better work.
If you purchase
In Our Lifetime
today, it will include
Ego Tripping Out
, a disco song Marvin recorded and released as a single before his work on the
In Our Lifetime
sessions. I am doing this album a favor by not including it in the tracklisting because my hatred for pure disco creates a pretty bad bias, and because to describe it, I would have to use the word "insufferable" twice in the same review. Let's talk about the other eight songs.
I was going to do a track-by-track review here, and even got a third of the way through it, but just trying was giving me a terrible headache. As much as the Wikipedia intro wants you to believe this is a critically important album, the simple facts that it went out of print when Marvin's others didn't, and that finding lyrics online to half of these songs is impossible, it's pretty clear what popular opinion of
In Our Lifetime
actually is.
I'm more in line with that reality.This is the only one of these Marvin albums I'm reviewing of which I don't actually own a physical copy.
I like the spacey "Far Cry," which doesn't actually have any real lyrics, as Tamla only had Marvin's syllabizing scratch track to use. Gaye hadn't gotten around to recording any for the song before the masters got yanked. This works for "Far Cry" though, as it sounds like some kind of ghost dance 4:28 before the end of the world. The jazzy piano, bass, and cymbal breakdown halfway through is magical. The final two minutes of the title track do the same thing--it sounds awesome. The bassline on "Funk Me" is infectious, and I love the nerdy glee in Marvin's voice when he repeats "
funk me, funk me, funk me"
near the end of the song. But unfortunately, a lot of the rest of the music here is light-weight, and Marvin's good vs evil on the dance-floor lyrics have a paranoid edge that takes most of the fun out the album. Like I said,
In Our Lifetime
is a mess, with an unmistakeable touch of genius somewhere deep underneath, like a Caspar David Friedrich moonrise with a Thomas Kinkade landscape painted over it. Due to Gaye's early-80's drug-addled excesses, and Tamla's meddling, that's about the best
In Our Lifetime
can offer.
1981 Tamla
1. Praise 4:51
2. Life is for Learning 3:39
3. Love Party 4:58
4. Funk Me 5:34
5. Far Cry 4:28
6. Love Me Now or Love Me Later 4:59
7. Heavy Love Affair 3:45
8. In Our Lifetime 6:57