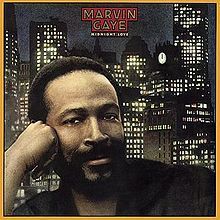 9/10
All of Marvin Gaye's introspection on the nature of good and evil inside himself found within the album,
In Our Lifetime
, gives me a headache. I think those lyrics are a sign of Marvin's increasingly troubled mental state at the time. He would only release one more album before his death.
Midnight Love
is that album. Two years later, he'd be in the ground.
In a wikipedia-listed quote whose source I can actually
vouch for
, Marvin says before beginning the sessions for
Midnight Love
, "I'm worried that I'm getting so introspective, no one will listen. I can't afford to miss this time. I need a hit." Apparently, Marvin recognized how alienating his lyrical pondering had become, as well. This almost leads to an over-correction. On
Midnight Love
, Marvin keeps his topics simple: love and healing. Also,
Midnight Love
not only falls squarely into the genre of 80's pop--with its pioneering use of "that 80's drum-machine sound," coupled with "that 80's synthesizer sound," and everybody's favorite "80's sexy saxophone,"
Midnight Love
pretty much invented 80's pop music.
As a kid in the 80's, I hated stereotypical 80's music. I preferred the more timeless sounds of U2, or the Police's last album. But I'd be lying if I said I didn't have an 80's pop sweet-spot that
Midnight Love
strikes right down the middle...like Billy Ocean, "Carribean Queen" right down the middle. Midnight Love's beat is so infectious, its rhythms...healing. Marvin was an ailing man when he recorded
Midnight Love
, and in a way, he was always ailing. I can understand. The kind of healing that he wants here isn't just sexual, though that is a component. It's a deeper, nearly intangible kind of healing he was looking for. At the end of his search, he created one final lasting work for the people to enjoy--but for him, it wasn't enough. R.I.P. Marvin.
If I were you, I'd make sure I picked up the
Midnight Love
2000 re-release that ends with a bonus instrumental of the song "Rockin' After Midnight." It is so fun and good-vibing, and it is emblematic of most of the rest of the album: Gordon Banks on guitar, someone else on the sax, and Marvin singing and playing eight instruments himself. Working for the people.
1982 Columbia
1. Midnight Lady 5:17
2. Sexual Healing 3:59
3. Rockin' After Midnight 6:04
4. 'Til Tomorrow 4:57
5. Turn On Some Music 5:08
6. Third World Girl 4:36
7. Joy 4:22
8. My Love Is Waiting 5:07