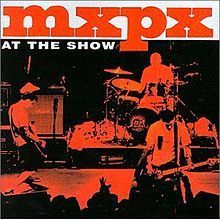 9/10
Though MxPx have been around for more than two decades,
At the Show
is the only live album they have to their name. Thankfully,
At the Show
was recorded during the band's peak, in support of their classic album,
Slowly Going the Way of the Buffalo
, and only three years after their classic
Life In General
was released. Plenty of bands don't catch the live-album bug until well into their careers, often after the glory days have passed.
At the Show
features MxPx performing live during the Golden Age of MxPx. The setlist is vintage, a brilliant mix of sing-along crowd pleasers (Chick Magnet", "I'm OK, You're OK," "Punk Rawk Show"), head-banging bullet-trains (the stretch between "Downfall of Western Civilization" and "Walking Bye"), deep cuts ("Invitation to Understanding"! "Delores"!), rarities ("GSF," "Small Town Minds," "Forgive and Forget"), and a Ramones cover ("The KKK Took My Baby Away"). The performances are energetic, with all the songs sped up just a little bit more than on record (yes, they can play even faster!), and well-captured to tape by some old guys in some punk band that sings about food and fishing.
At the Show
provides a lot for fans to enjoy (my only complaint to this day is the absence of "Do Your Feet Hurt"), and if it's been a long time, there's a huge chunk of nostalgia just waiting for a listen.
1999 Tooth & Nail
1. Tomorrow's Another Day 3:09
2. Sometimes You Have to Ask Yourself 2:37
3. Under Lock and Key 2:22
4. Chick Magnet 3:08
5. G.S.F. 2:37
6. Cold and All Alone 2:00
7. Party, My House, Be There 2:17
8. Downfall of Western Civilization 2:30
9. Time Brings Change 2:09
10. Fist Vs. Tact 1:10
11. Small Town Minds 1:06
12. Walking Bye 1:20
13. The KKK Took My Baby Away (by The Ramones) 1:54
14. Andrea 1:47
15. Want Ad 1:41
16. Lifetime Enlightenment 1:03
17. Forgive and Forget 0:29
18. Invitation to Understanding 2:19
19. Dolores 1:11
20. Middlename 3:13
21. I'm OK, You're OK 2:34
22. The Theme Fiasco 2:20
23. Punk Rawk Show 3:59