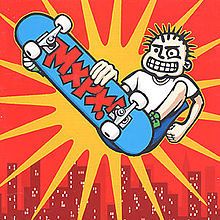 9/10
There was a time where it seemed like the Internet would be like some kind of eternal archive and that everything you've ever read could be accessed again anytime you want. Unfortunately, that's not exactly the case. Despite the best efforts of archiving systems and such, it seems like there are as many dead links as live links these days. Way back in the misty, mystical, lovely days before 9/11, I remember reading conflicting reports about
Let It Happens
' release. One side said that the band had released
Let It Happen
, a collection of b-sides and rarities, because they owed their label, Tooth & Nail, one more album, and didn't want to record new material for a label with which they were currently at odds. The other side said that Tooth & Nail released
Let It Happen
against the band's will, just to turn a little more profit from their golden goose, the band that put them on the map. I don't know which side of the story is true, but I do know this:
Let It Happen
is a gem for the true MxPx fan. The album kicks off with three until-
Let It Happen
unreleased songs recorded around the 1995
On the Cover
sessions.
On the Cover
is okay, but these songs are shockingly good, far better than anything the band had recorded up to that point, outside of maybe "Punk Rawk Show." They are also surprisingly atmospheric, with far more effect on Mike Herrara's voice and the guitar than usual, which sounds really cool. After these three songs are two covers, "Sick Boy" and "Oh Donna," which follow in the same sonic mold as the previous songs, i.e., they're really, really good.
At this point, I should mention that I originally planned to write reviews for all of the 7" vinyl MxPx albums I own. The 90's were a virtual vinyl desert, as most bands had completely abandoned the format for the compact disc. MxPx, however, have always been a big fan of the past, and never forgot the coolness of the once-considered outdated format (if you've been on an island for the past decade, vinyl has made a big comeback, and a lot of folks now hold it as the greatest music format of all time, which I'm not so sure about, but I do like it quite a bit, and run-on sentences are so, so awesome, thanks). In the mid-to-late-90's, MxPx put out several really awesome vinyl EP's, with great songs on them and neato packaging, and ALL of those songs are found here on this awesome compilation album, so I won't review those 90's vinyls separately...but I will still talk about the songs for this review.
"Small Town Minds/First Class Mail" is my favorite one-two punch in MxPx history, two of the most musically frenetic, violent songs the band have released, with an awesome, brooding interlude at the end of the former that launches the latter into the stratosphere. Awesome.
Other highlights include the slow-dance worthy "GSF" and pretty much every song, most sounding a little more ferocious than the MxPx usual. The album highlight, though, is the title track. "Let It Happen" is a romantic, wishful, huge-sounding song, with a cool, emotional, bassline-led instrumental bridge that blink-182 ripped off consistently for the next five years until they started getting weird (I'm not knocking blink-182, go read my blink-182 reviews and you'll see I am quite fond of them, or just take my word for it and read the rest of this review instead). Also, I could do another bass nerdout section here about how MxPx and Slick Shoes taught me how to play sweet-sounding bass solos by bouncing back and forth on the bottom two strings. It's all about that bass AND treble. The awesome thing about "Let It Happen" is that MxPx attempted to record other songs like it on a certain album I'll review next week, and they made these attempts on a MUCH bigger budget, but none of those songs come close to besting "Let I Happen."
After the title-track, the band blasts through another nine songs, and all of a sudden we're 25 songs in. At this point, the album might as well be over, a satisfying rush of 25 songs in the can. In fact, if you turn off your stereo at this point, you've still gotten your money's worth (and I imagine you can most likely "Amazon-Seller" this thing now for next to nothing). However, as a cool bonus, "Let It Happen" includes seven early versions of songs from the band's breakout classic,
Life In General
. These versions feature different harmonies and slightly different arrangements than what ended up on
Life In General
. It's nuts how much a simple change in notes sung by two harmonizing singers can change the entire feel of a song. These songs really illustrate how thin the line is from decent to great--a quite educational experience. Also, they're a reminder that the X-Factor in MxPx's 90's success may have just been the chemistry present in Mike Herrera and Tom Wisniewski's harmonies.
At this point, 60,000 words into this review, I hope I've convinced you to give some person from Nebraska who is selling this album for 99 cents on Amazon your spare change.
Let It Happen
is more than worth it. I picked it and
The Ever Passing Moment
up in the same week and found myself in a blissfull MxPx daze for months afterward. I'm still not sure why the album
was
released, but to this day, I enjoy that somebody...
Let It Happen
.
Awesome.
1998 Tooth & Nail
1. Never Learn 2:05
2. Begin to Start 3:29
3. Swing Set Girl 2:15
4. Sick Boy 2:32
5. Oh Donna 2:12
6. Small Town Minds 1:03
7. First Class Mail 2:08
8. Can't See Not Saying 1:44
9. GSF 2:34
10. Thoughts and Ideas 1:47
11. Easier Said Than Done 1:25
12. Rock and Roll Girl 2:06
13. Important Enough to Mention 2:19
14. Elvis Is Dead 1:51
15. Lifetime Enlightenment 1:07
16. Let It Happen 2:57
17. Hot and Cold 2:10
18. So Kill Me 1:48
19. Suggestion Box 2:15
20. Creation 1:23
21. Want Ad 1:52
22. Honest Answers 2:56
23. Late Last Night 1:34
24. Biased Bigotry 2:29
25. Circumstance 2:10
26. Do Your Feet Hurt? (Critter Version) 3:16
27. Move to Bremerton (Extended Edition) 4:11
28. Chick Magnet (Demo Version) 3:02
29. Sorry So Sorry (Demo Version) 2:16
30. Christalena (Demo Version) 2:06
31. South Bound (Demo Version) 2:32
32. Life in General (Demo Version) 1:53