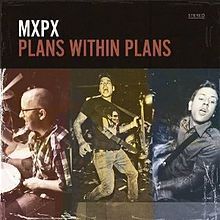 9/10
If this is the end, it's a fitting one. It's been three years since MxPx self-released
Plans Within Plans
, but in 2012, I honestly wasn't ready for the album. I still thought I was young and the world was my oyster. Just look at this album cover. This is not a photograph of young men. This is a photograph of three men in their mid-30's (next year they're all turning 40!).
Plans Within Plans
is not an album full of songs about young people activities. This is an album about the joys and difficulties of life. Back in 2003, when the band released
Before Everything After
, I just wanted them to grow up and leave behind the goofy, pop-radio love songs. I remember listening to Mike Herrera singing the line "
I want to love my job, I want to love my life, but most of all...
" and finishing the line for him with the words "I want to love my wife," as Herrera had been married for a couple of years, and I thought he was going to mention her. Instead, he sang the words "
I want to fall in love
," and I threw up in my mouth a little bit and thought
You've done that already! Sing your age!!!
Well, on
Plans Within Plans
, MxPx sing their age. Three years after
Plans Within Plans
was released, I am approaching my mid-30's, I get the album, and it's awesome.
"
We were never going down for the count. We were always going all ten rounds
." Herrera sings on the fist-pumping "Far Away." Here I am this year, struggling to keep off weight like never before, nervously eyeing my hairline every night, getting tired with fewer steps, but if MxPx can keep it awesome, if they aren't going down for the count, than neither am I.
Plans Within Plans
is the most bare bones, straightforward punk record of MxPx's career, with little augmenting the guitar, bass, and drums outside of a drum machine in the bridge of "Aces Up." This is an album that is at once heavy
and
uplifting. Outside of "The Times," even the songs with slower tempos have a chugging, full-speed ahead feeling. The lyrics slip between nostalgic and forward-thinking, with Mike intoning "
I love life now, but those were the best of times
" on "Best of Times," yet insisting on the similarly titled "The Times" that "
These are the times I'm living for, every day is better, than the one before
." That about sums it up.
I'm not going to pretend like
Plans Within Plans
is as good as
Life In General
or
Slowly Going the Way of the Buffalo
. The 90's were an ongoing magic moment for this band, years of continuous lightning in a bottle. With that said,
Plans Within Plans
is a damn strong effort from a band that isn't going down for the count. 2/3 of MxPx might now have day jobs, might not be able to tour much, but as long as the band are still able to produce efforts as high-quality as
Plans Within Plans
(which, as a self-produced album, contains the best production work of Mike Herrera's career) TIME CAN BE DEFIED. I DON"T HAVE TO GET OLD. MXPX FOREVER!!!
FOREVER!!!
2012 Rock City Records
1. Aces Up 2:27
2. Screw Loose 1:07
3. Nothing Left 2:50
4. The Times 2:55
5. In the Past 2:29
6. Best of Times 3:27
7. Stay On Your Feet 3:11
8. Lucky Guy 2:46
9. Far Away 3:04
10. Cast Down My Heart 2:11
11. When It Comes to You 3:19
12. Inside Out 2:52
13. Nothing's Gonna Change 2:40