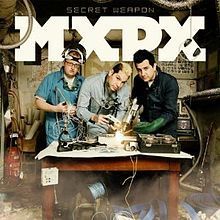 9/10
Defeat. It sucks. I'm at the point in life where I'm getting all platitudinal, so I'll say this: defeat isn't what happens to you, it's how you respond to what happens.
Yeah, that's kind of crap when you lose. I mean, what if Jacob Hester hadn't gotten that first down on fourth and one? LSU would have been defeated, even though they played their hearts out. But then the next year, Florida whipped LSU up and down the field. And then the year after that, they edged the Tigers out in a defensive battle. Then, LSU knocked the Gators off on a fake field goal. Then, LSU blew Florida out. You win, you lose, you win again.
ULTIMATE PLATITUDE: THAT's LIFE: NEVER GIVING UP.
You keep trying. Your marriage isn't going so well? You fight to make it better. You put out a crappy pop album, then put out another album immediately after it that doesn't exactly bring back memories of the glory days? Then you put out
Secret Weapon
.
Eighth albums aren't supposed to be this good. Thirteen years into the band's recording career, MxPx seemed to be all washed up. If they'd gone all emo in their late 20's, what were the chances they could come out with a good punk rock album in their 30's?
Secret Weapon
is not a good album, it is PLATITUDE TIME: a
great
album!
In a sort of dream-team scenario, 2007 MxPx reunited with Aaron Sprinkle, producer of the band's debut album. The band also reunited with Tooth & Nail records, their original record label, which released all of MxPx's best, most beloved work in the 90's. Sprinkle had come a long way in the 13-years since MxPx's
Pokinatcha
, helping craft the sound of bands as disparate as Anberlin and Demon Hunter. In fact, at this point, Sprinkle had produced the first three albums for both of those bands. 2007-era Tooth & Nail saw the label coming off the most profitable year in their history, with artists like Underoath and Jeremy Camp absolutely blowing up the charts. MxPx may have put Tooth & Nail on the map, but the label's mid-00's stable helped them conquer it...for a little while. Still, 2007 was the perfect year for MxPx to reunite with their former industry partners, and if
Secret Weapon
is any indication, all three were fired up to again be working together. So, uh...I guess I should actually talk about the album?
Secret Weapon
finally, finally sees MxPx's return to the speedy tempos of
Life in General
and
Slowly Going the Way of the Buffalo
. Not only that, but the songs that aren't blazing speed fast are actually fun to listen to. Not only that, but the album actually flows well, perfectly balancing mixes of lightning blasts of energy and the more chill songs...chill in this case never meaning boring. Not only that, but guitarist, Tom Wisniewki, decided he wanted to toy around a bit more with effects, adding a U2-esque fiery-sounding solo to the ferocity of "Contention," a cool delay effect to the bridge of "You're on Fire." Not only that, but Sprinkle adds in some cool production touches, like the spacey siren at the end of the punk-rock/rockabilly murder-ballad, "Chop Shop," or the spicy horn at the end of "Punk Rawk Celebrity." Why would I use "not only" again and again when I can use "on top of that?" On top of that,
Secret Weapon
is the most diverse album of MxPx's career, working in a huge variation of tempos and textures into the core MxPx punk-rock sound. Have I used "in addition" yet? In addition to all this,
Secret Weapon
contains an elevated sense of professionalism. Sprinkle's production sounds polished without neutering the band. He brings Mike Herrera's voice out of the whiny emo desert of MxPx circa 2003-2005, and instead makes it sound like the Herrera of
Life in General
and
Slowly Going the Way of the Buffalo
, only ten years older and wiser. There's such a pride in the excellent performances and high recording quality here that the CD booklet lists each of the different snare drums space-alien drummer Yuri massacres for each song. Awesome.
I walked three miles from my apartment to the local FYE to buy this album the day that it came out (I took off from work), and it rained on me the whole way back, and it was awesome. I needed a boost, and I needed MxPx to come through, and finally/in addition/on top of everything, these lyrics are Herrera's most enjoyable and inspiring, urging listeners to not give up and to chill out, all at the same time, poking fun at the band's attempt at Billboard domination four years before, and skewering punk rock culture. I'm so happy this album exists. You can't go home again, but you can go home again. Platitudes, man.
2007 Tooth & Nail
1. Secret Weapon (featuring Brian Baker of Bad Religion) 2:06
2. Shut It Down (featuring Tim Pagnotta of Sugarcult) 2:59
3. Here's to the Life 2:57
4. Top of the Charts 2:33
5. Punk Rawk Celebrity 2:42
6. Contention 1:16
7. Angels 3:15
8. Drowning 3:50
9. Chop Shop 2:14
10. You're on Fire 3:18
11. Bass So Low 3:37
12. Sad Sad Song 2:44
13. Never Better Than Now 2:47
14. Biting the Bullet (Is Bad for Business) 3:18
15. Not Nothing 3:06
16. Tightly Wound 3:26
17. The Hoo-Ha Jangle 3:29
18. Madcap Scheme 2:10
19. Throw Your Body in the Air / All About Nothing (hidden track) 6:38