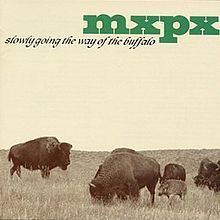 10/10
I'm not about to call a favorite between
Life and General
and
Slowly Going the Way of the Buffalo
. The two albums are distinctly different, but to me they are both punk rock perfection.
Life in General
is an unbelievably fun, lightning-speed blast of energy (with a couple of awesome pit stops).
Slowly Going the Way of the Buffalo
is a bit slower and more introspective. Steve Kravac produced both albums, and he gives
Buffalo
a bit darker of a sound. All the instruments are just as distinct in the mix as they were on
Life in General
, but there are key differences in tone--NERD TIME--Mike Herrera's bass sounds tuned to drop D, and it seems like Mike's using a pick to strum instead of plucking with his fingers (to the ears of this 14-years of experience bassist). This gives the album a bit more of an edge, keeps the songs driving even though the tempos aren't always quite as fast...not that there aren't some blazing-speed songs here.
In general..the songs here are great, distinct, and original. About this time, late 90's to early 00's, I remember people describing certain bands as having a "Fat Wreck" sound (after NOFX's Fat Mike's record label, Fat Wreck Chords). MxPx had an "MxPx sound," and among late 90's punk albums,
Slowly Going the Way of the Buffalo
is particularly...well, I already used the word "distinct" three times. The whole album sounds so effortless and fun, like they could just rattle off a cool and easy opener like "Under Lock and Key" as naturally as Fat Mike sings badly. I particularly love
Buffalo
's more thoughtful second half (the party songs are wisely front-loaded). "Invitation to Understanding" and "What's Mine Is Yours," are almost shockingly cerebral after what the band have done up to this point, but my favorite MxPx song of all time, "For Always," is the key standout, in my completely subjective opinion. I like that "For Always" is musically deeper and more emotional than MxPx's previous songs, but that it also ends more punk than anything, with Mike intoning how much he just doesn't care.
"The Theme Fiasco," the cool instrumental spy-movie theme at the end of the album, is the perfect capper. My emotional bias toward
Slowly Going the Way of the Buffalo
might be stronger than for anything else I review. I listened the crap out of
Slowly Going the Way of the Buffalo
at the end of the summer of 2000, in the final weeks before the beginning of my first semester of college.
Buffalo
said everything I wanted to say, it sounded exactly like what I needed to hear, and that summer seemed to roll on and blissfully on, the longest one I had ever known, the easiest one I had ever known, the Glynn sunsets hanging in the sky for an eternity, Smash Brothers cousin battles, lego gun wars at plantations, long walks with the dog through the countryside, never ending, never ending
1998 A&M/Tooth & Nail
1. Under Lock and Key 2:32
2. Tomorrow's Another Day 2:47
3. The Final Slowdance 1:59
4. I'm OK, You're OK 2:39
5. Cold and All Alone 2:07
6. Party, My House, Be There 2:16
7. The Downfall of Western Civilization 2:42
8. Invitation to Understanding 2:33
9. Fist vs Tact 1:11
10. What's Mine Is Yours 3:44
11. Self Serving with a Purpose 2:48
12. For Always 3:12
13. Set the Record Straight 2:57
14. Get with It! 1:44
15. Inches from Life 1:51
16. The Theme Fiasco 3:10