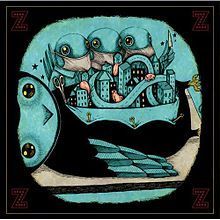 10/10
My wife has, at some point, brought every My Morning Jacket album ever released into our house or car. I've heard all of them. With that said, I have purchased one My Morning Jacket album for myself. That album is
Z
. I purchased it shortly after its release in the fall of 2005
*
, due to a really awesome Late Night with Craig Ferguson performance, and a recommendation during one of many hours-long phone conversations with my future wife about music. Hint: if you have a girlfriend and she talks to some other heterosexual, non-DNA-sharing dude for hours on the phone every week, she is probably not going to be your girlfriend for very much longer.
Z
is one of the better recommendations once-friend, now wife has made over the last 12 years, but let's get to it.
My Morning Jacket made three albums before
Z
. Those albums contain some really good songs, but they aren't all that cohesive and the production work is some of the worst I have heard in my long hobby of music-listening. My Morning Jacket made three albums after
Z
. Those three albums have their moments. My wife has them on her car iPod and I've heard them plenty of times. With that said, this is the EVERY ALBUM I OWN review series, not the EVERY ALBUM I OWN, AND ALSO THE ALBUMS I PUT ON MY WIFE'S IPOD AT HER REQUEST review series, so I will review Z, right now, maybe, if you're lucky, and also the live album My Morning Jacket put out after
Z
, which my brother-in law got me on a 4-vinyl set to go along with the new record player he bought me (one of the better Christmas gifts I've received, plus I finally got to throw away the old record-player that had spinrectile disfunction). I'll review the latter in a couple days, and can you tell I'm stalling? On December 31, 2005, when I listed
Z
as my third favorite album of the year, I struggled badly to describe it. I ended up saying this:
"
Of the nine albums on this list, Z is certainly the hardest to talk about. What is it? I still can't figure it out. It's not that the lyrics are obscure or arcane-in many ways they make perfect sense. It's defining the music I can't do. What is it? I will now turn one of those phrases I usually hate: Imagine mid-60s Who shaved off their rougher edges, moved to Hawaii, bought 21st century synths, added lots of reverb to the vocals, a little drum machine, and then took a really warm, refreshing bath. That's pretty much all I can think of. This is a consistent, genre-defining, beautiful rock record.
"
I guess that's pretty sonically accurate. Also, when I finish this review series, I'd love to make new versions of all my old best of the year lists. 2005's number one would most likely change...now that I have some emotional distance. Anyway, that little blurb sums up the sound of
Z
pretty well, but not what necessarily makes the album so great.
What makes
Z
great is its structure, which is something My Morning Jacket haven't come close to replicating since. The way the album starts off in such a mysterious, yet reassuring place with "Wordless Chorus," then hurtles through a sort of mystical forest of sound with "It Beats 4 U," then awakens with "Gideon," then wanders off back into the woods during the psychedelic jam session at the end of midpoint, "Off the Record." Then the next song is literally called "Into the Woods." Then the album kind of jams out for a couple of songs, and the instruments, especially the piano (though this is a rock record), shine so brightly, and then there's such an unexpectedly gentle song, not that the album has been rough up to this point, then there's jamming and spacing out with the closer, "Dodante."
Z
just flows so well, and with the actual songs being so good, and so well played, and so diverse...the album is perfect. Without question, if I made a new
The Nicsperiment's Nine Best Albums (I've Heard) of 2005
list today, nearly ten years later,
Z
would still be riding high. My wife's ten-year old advice was good advice.
*This is one of those albums that reminds me of house/dog-sitting for my aunt during November of 2005, reading her Harry Potter books, watching her TV (both How I Met Your Mother and Bones premiered that fall, though I only stuck with How I Met Your Mother), and drinking her beers. That was such a lovely time in life, not having a job, but sitting on a decent sum of money I'd made in my Katrina disaster-relief job (84 hours a week yields a lot of overtime), walking along the crawfish ponds, watching the ducks take off during some of the loveliest, deepest orange sunsets I've ever seen, and generally feeling like any wonderful thing could happen at any moment. I haven't done a ten-year retrospective yet, but as this review is coming exactly ten years after that time, maybe this bonus paragraph is it.*
2005 ATO
1. Wordless Chorus 4:12
2. It Beats 4 U 3:46
3. Gideon 3:39
4. What a Wonderful Man 2:25
5. Off the Record 5:33
6. Into the Woods 5:21
7. Anytime 3:56
8. Lay Low 6:05
9. Knot Comes Loose 4:02
10. Dondante 8:01