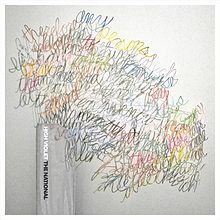 7/10
Look, I know I just basically reviewed The National's
Boxer
as if it was the worst thing anyone has recorded, but it's not. Though I haven't heard anyone talk about this band in a while, nor do I know of any of the folks who were eight years ago championing
Boxer
as the greatest thing ever still throwing it on at any point in the present, even I can admit,
Boxer
is neither my thing, nor terrible. With that said, I don't think
Boxer
is, as a whole, engaging, dynamic, or worthy of high praise. It isn't the only The National album I own, though. I bought
Boxer
way into 2012. Two years before, for the simple reason that Sufjan Stevens contributed to it. a lot of people liked it, and 7digital had the album on sale for $5, I bought a very recently released
High Violet
. I made it through the first five songs, and thought two things (both of these The National albums get a two item list): 1. This is pretty good. 2. My wife would really like this. Well, my wife really did like it a lot. Actually, she still has this on the iPod mix that plays on random ad nauseum in her car. Also, the first five songs...really, the first six songs on High Violet are pretty good, especially if you cut out "Little Faith," which is basically a microcosm of both The National albums I've heard. "Little Faith" starts with a cool-sounding head-rush of rhythmic, treated distortion, and the track could really take off from there, but the rest of the song has absolutely nothing to do with the intro, never incorporates it in any way, just repeats it again as an outro. That's pretty much
Boxer
to a tee ("t"?), and
High Violet
for the most part, though neither album repeats the cool parts from the beginning at the end...they're just boring. I say "for the most part" for
High Violet
because
Boxer
is two cool songs followed by nine mostly boring ones, and
High Violet
is three cool songs, one boring one, two cool ones, and then five really boring ones, sans the outro to "Conversation 16," where the vocalist repeatedly intones "
I was afraid I'd eat your brains...cuz I'm evil.
" By boring, I mean the drummer plays a constant rolling beat that rarely changes in dynamics, and never features any space, the bassist completely disappears, the singer's baritone drones on an on and on, barely wavering in tone, range, emotion, the lyrics obtuse, and guitars and horns that are just kind of there. Blah.
The cool songs are so cool, though. "Terrible Love" is a great opener, suggesting wells of emotional and musical potential. "Sorrow" is quiet and brooding, the kind of second track that seems like it will lead to an explosive third. "Anyone's Ghost" isn't explosive in any way, but it is full of an unparalleled brooding angst, like the previous track actually built up to it. Then, unfortunately, "Little Faith" happens, and I've already talked about that. Thankfully, "Little Faith" leads directly into "Afraid of Everyone," possibly The National's most menacing and aggressive song, though when I listen to it now, I can't help thinking that if the drummer would have accented the end of each measure of the outro with some crash cymbal, the song would feel much more full and cathartic. As I mentioned in the previous review, this dude doesn't like cymbals all that much, outside of his hi-hat. The next song is "Bloodbuzz Ohio," which is actually *gasp* fun. Little else that follows "Bloodbuzz Ohio" is fun, though. The band settle into a hazy, barely mid-tempo fog that does nothing for me, outside of the brains part. The fact that the vocalist's lyrics are so non-sensical makes this second half even more alienating. "
You and your sister live in a lemonworld, doo doo doo doo doo doo doo.
" I don't have any idea what this dude is talking about, but listening to him singing that line over and over and over again is quite annoying.. "Vanderlyle Crybaby Geeks." I don't think I even want to know what that means, but it certainly doesn't resonate.
I don't know, man, I just don't get it. St. Vincent, either, while we're at it on Paste darlings. However people describe these artists, I feel like other artists have actually fulfilled those descriptions, and these haven't. The music just bores me. Happy Thanksgiving. Goodnight.
2010 4AD
1. Terrible Love 4:39
2. Sorrow 3:25
3. Anyone's Ghost 2:54
4. Little Faith 4:36
5. Afraid of Everyone 4:19
6. Bloodbuzz Ohio 4:36
7. Lemonworld 3:23
8. Runaway 5:33
9. Conversation 16 4:18
10. England 5:40
11. Vanderlyle Crybaby Geeks 4:12