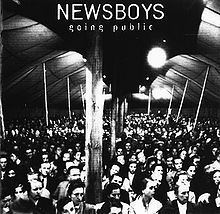 7/10
Yes, Newsboys. I'm about to review seven albums by the Newsboys, and I might even throw in a piece 4/7 of the way through about the state of "Christian Music" in general. Is this what the Internet currently demands? Will I hurt my add revenue, and will my advertisers pull out, and attempt to guide my content toward something more profitable?
No! Of course not because I don't have to answer to any of those things. This is The Nicsperiment, and it's mine, and I can do what I want with it (er...unless Google shuts me down).
So, when it is probably less popular than ever, I will, for the next two weeks, dissect the Peter Furler era of Newsboys plus a little of what came after.
But John James was the vocalist for Going Public
you might say. I'm not sure why you might say that, though, because you'd be wrong. James only sings lead on 3.5/10 songs on that album. Peter Furler sings lead on the rest. Also, Furler wrote all the music. By 1994, Newsboys were chiefly Peter Furler's band.
Here's how I found out about Newsboys:
We were all at Lauren's house some time in 1994, and her family had this VHS of Christian Music videos. I thought it was WOW 1994 or something, but when I google that, nothing comes up, so maybe not. All I know is, it also had a video for Tony Vincent's "Out of My Hands," and we all thought that video was awesome, but not as awesome as the video for Newsboys' "Shine." While I thought the video was cool and enjoyed that the song referenced barbecuing a hamster, and my siblings and Lauren traded that VHS back and forth (I wonder if it still exists because if it does, my VHS player still works), I was far too skeptical to give anyone props for just one weird song. My seven-year old brother, though, was not skeptical, and he got his Sugar-Mommy, aka, my mom, to by him
Going Public
, the Newsboys "Shine"-containing album, on cassette. I was on an only-classical music era of life, but every night I heard
Going Public
wafting down the hall from my brother's room (along with the smell of his farts), and had to admit to myself that I liked what I was hearing (other than the sound of his farts). Eventually, I passed by his hall one night and uttered the words, "Hey...can I borrow that Newsboys cassette?" Outside of during the most hormonal six months of his puberty experience, my brother and I have always gotten along quite well, and he said "sure" and then probably farted because if you haven't gotten the subtext of this review, my brother farts a lot. I like this review a lot, but my wife says she needs the computer for school, so I guess I'll be back in a minute.
OK, I'm back. My wife worked on a paper while I watched Dr. Who, but it was kind of a boring episode, so I fell asleep for a second and then I watched football and ate some Skittles, and I'm still watching football (Miss St shellacking Missou), but I'm done with the Skittles.
Anyway, I listened to my brothers' Newsboys
Going Public
cassette, and I thought,
Hey this is pretty good
! Well, that was 21 years ago. I've listened to this on CD (which is almost as archaic a format as cassettes are, now) four times this week. Do I still think
Going Public
is pretty good?
In the spirit of the old-school Amazon.com reader reviews posted during Peter Furler's Newsboys heyday, let's go track-by-track!
1. "Real Good Thing" You know what you're in for right off the bat here (this expression means that generally, when a ball bounces off a bat, you can tell where it's going to go immediately). The electronic drum-led atmospheric pop-rock sound is definitely stamped EARLY 90's, but there's something catchy and atmospheric about the song. Also, the lyrics are really clever, and that's because they were all written--yes, every lyric on this album sans a handful--by Steve Taylor.
This Steve Taylor:
As in, "one of the most talented, thought-provoking artists in Christian music history" Steve Taylor. In typical Taylor fashion, "Real Good Thing" distills the importance of grace over works with a seemingly silly, yet topical verse:
Sell the Volvo, shred the Visa
Send the cash to Ma Theresa
Great idea, the only catch is
You don't get saved on merit badges
2. "Shine" And here it is, the song that launched Newsboys career. While "Shine" may seem goofy and lighthearted, I think there's something very important to say for it: it makes the actual act of living a Christian life seem desirable. This is something hugely missed since the tapering off of the Golden Age of Christian Rock. Your major choices since then (we'll say post-9/11...or maybe post-Underoath) are 1. Humorless, generic worship music, or 2. "I have really strong and confusing emotions, and my lyrics are indistinguishable from anyone who doesn't know Christ," music. Not to tangent on a review that is already going long, but long-time readers know that I can have a much easier time getting into say, Slayer's
Reign of Blood
, than into some half-assed "I have no idea what I actually believe" Christian band, and I love Jesus more than my family. With that said (and with a nod to John DiBiase of Jesus Freak Hideout), I really miss when there was an abundance of good and fun albums about the Christian life. You don't get that anymore. Just #1 and #2. Pee and poo.
3. "Spirit Thing" Maybe it's the spy-guitar, the heavy atmosphere, the cool Tina Turner
-like vocal in the bridge, or the tempo, but this song has really stuck with me through the years. It may have that 1994 DANCE FLOOR BEAT, but as I just said in my MxPx reviews, even if a genre is dated, in this case 90's dance-pop/rock, if the song is good, it is timeless, regardless. 4. "Let It Rain" This is a ballad, and again, while it may have an EARLY 90's DANCE-BALLAD BEAT, the song is quite atmospheric and moving. "Let It Rain" is sung from the perspective of the Apostle Peter, moments before his death, as he reflects on his life, thinks about how much he misses Jesus' face, and anticipates being reunited with him.
5. "Going Public" A driving, rocking song with this sweet verse/chorus combo:
He's displaced
And unglued
Scared that faith in God could be misconstrued
But the cross
Makes him wish
That his spine was more than a school of jellyfish

Sign on
The time is drawing near
This is surely a banner year
To be a public witness
Sign on
The lines are drawn and clear
There's no straddling fences here
We're going public with this

6. "Truth and Consequences" Sounds like what you would hear in a dance club if The Asylum made a rip-off of Trainspotting.
7. "Light Out" Likewise, the dated, simple early 90's techno sound of "Lights Out" overwhelms the message of the song, though admittedly, it did sound, at the least, equal with its genre peers in 1994. Still, it's not that good of a song, and as I just said, doesn't overcome it's genre.
8. "Be Still" is another ballad, but despite its decent atmosphere, the lyrics are a bit too repetitive.
9. "When You Called My Name" A surprisingly melancholy song from the point-of-view of a struggling preacher. It's still a pretty effective song. 10. "Elle G." This song about dealing with the aftermath of a suicide is one of the most powerful in Newsboys' catalogue. Also, that surprise cascading guitar solo at the end of the song is so cathartic, such an explosion of emotion. Just a great song.
Looking at
Going Public
today, there are just too many strong songs to say this is a dated work that should be forgotten. At the same time, there are enough weaker songs that can't overcome their dated sound, and they prove that the Newsboys (or perhaps Furler) of 1994 are still honing their craft.
1994 Star Song
1. Real Good Thing 2:53
2. Shine 3:42
3. Spirit Thing 3:27
4. Let It Rain 4:17
5. Going Public 3:30
6. Truth and Consequences 2:58
7. Lights Out 3:09
8. Be Still 3:19
9. When You Called My Name 4:02
10. Elle G. 5:12