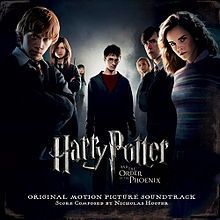 7/10
In strange irony, despite all of the praise I give maestro John Williams, I own every Harry Potter soundtrack except for the three he composed. It's not that I don't think they are up to par with the rest of his oeuvre, but rather I don't really have much of an emotional connection with those first three Harry Potter films...they are kids movies, and when they were released, I was no longer a kid. I didn't take much interest in the films until the characters reached their teenage years (uh...that sounded improper...sorry...I mean because I can relate more to being a teenager than a child...er...leave me alone!), and my Harry Potter soundtrack collection reflects that.
Speaking of awkward, Patrick Doyle received the rather unenviable task of immediately following Williams, by soundtracking the fourth Harry Potter film when Williams was too busy with the third Star Wars prequel and myriad other projects. Doyle bowed out after that one effort, and the task of composing music for the fifth film fell to relative unknown, Nicholas Hooper. This composer choice seemed to take many soundtrack fans aback. "Almost any composer available would have thrown themselves at this project, and you got
this guy
?"
However, while watching the film, it is clear that Hooper is up to the task. The fifth Harry Potter film marks a harsh transition from the carefree magic of the first four films, to the dark, frightening new reality of the latter four. Trifling concerns like "Who will win the house cup this year?" are forgotten for more serious questions like, "Am I and all of my friends going to die?" Hooper's score follows suit. In my opinion, Hooper's work fits this movie to a T. Also, I don't know what "to a T" means, I've just heard it all my life and am parroting it.
Hooper's score is dark and brooding, just like the film, as Harry finds himself alienated, disbelieved, and persecuted. Much of Order of the Phoenix is a mental and spiritual battle for Harry more than a physical one, so the soundtrack is populated with quiet strings and subtle electronic ambient textures. However, there's a hope brewing beneath the surface which is at times given a chance to explode.
Phoenix's soundtrack album begins with the raucous "Fireworks," which features a boisterous string section that experiences a surprise rendezvous with some loudly distorted electric guitar halfway through. "Fireworks," showcasing new sounds, but not immediately focusing on the bleak tone, is a pretty brilliant piece to open up the album. Another moment of intense, yet hopeful emotion comes in track ten, "A Journey to Hogwarts," featured during a segue where Harry confesses his anger and confusion to his uncle and confidant, Sirius Black, then returns to school from Christmas break. Hooper works his way from more quiet sounds to clashing strings and woodwinds that build and blossom into a powerfully optimistic statement. He does something similar in the final track, "Loved Ones and Leaving," which brings to mind fraternal unity in the face of darkness. However, the centerpiece for this album, and perhaps for the musical journey of the Harry Potter films in general, is track seven, "Possession."
I'll be honest. I am a film snob. I have a minor in film theory (only because my college didn't offer a major), have seen more European art films than I can remember, have dissected most of Hitchcock's films shot for shot, and have even pretended to like The English Patient when I was in high school. With that said, one of my favorite scenes in all of cinema comes near the end of Harry Potter and the Order of the Phoenix. I should also add a second preface: JK Rowling's Harry Potter books don't rank too terribly high on my favorites list. I don't have some kind of Harry Potter bias fueling this statement. I enjoy the films enough to have an emotional connection to the last few, but the wizard's duel and Voldemort's subsequent possession of and exorcism from Harry Potter in the Order of the Phoenix grips my psyche just as strongly as the last shot of Vertigo, Winter Light's pastor deciding to hold service in an empty cathedral, and "No.
I
am your father." The combination of Harry suddenly becoming a peon in his own series, then having all of his flaws and mistakes shoved in his face as his body and mind are violated, then being brought back from the brink by what 1 Corinthians 13 tells us is God is too much for my soul to bear, and has reduced me to tears 100% of the times I have witnessed it. Hooper soundtracks this scene with miraculous perfection, tense strings reaching a tempo and pattern that brings to mind a trial, as Harry is shown how much he is like Voldemort, then a building and rising to an almost unbearably moving climax as, guided by the words of his mentor, Dumbledore, Harry focuses on the ways he is not. Here is the scene. Turn it up.
The other piece of significant music here is a tinkly bells and string theme for Professor Umbridge, one of the most unpleasant characters in the series. The piece, fitting for the character, is also unpleasant to listen to. And since I've gotten the good stuff out of the way, I'll get to the bad.
As much as this soundtrack works to back the film, on its own, in between the standouts, it isn't very engaging. A major chunk of its runtime is filled with quiet, short pieces lacking in unity. The album would at least have a feeling of emotional cohesion if it was tracked chronologically, but the order chosen here is a head-scratcher.
In the film, Hooper weaves hints of the "Possession" theme throughout the film, so that when he gives the full statement in the actual possession scene, there is a feeling of catharsis. That buildup does not exist on the soundtrack album, though, as the statements that hint at the theme often come after its track seven arrival. I don't understand why the album iss tracked this way.
So what you get here are some lovely, powerful pieces, surrounded by some music that is not bad, but rather unremarkable in comparison, though if all this music were ordered as it were in the film, it would at least hold the listeners attention. As it is, a great score for the film is just an okay soundtrack on disc.
2007 Warner Bros
1. Fireworks 1:49
2. Professor Umbridge 2:35
3. Another Story 2:41
4. Dementors in the Underpass 1:45
5. Dumbledore's Army 2:42
6. The Hall of Prophecies 4:27
7. Possession 3:20
8. The Room of Requirement 6:09
9. The Kiss 1:56
10. A Journey to Hogwarts 2:54
11. The Sirius Deception 2:36
12. Death of Sirius 3:58
13. Umbridge Spoils a Beautiful Morning 2:39
14. Darkness Takes Over 2:58
15. The Ministry of Magic 2:48
16. The Sacking of Trelawney 2:15
17. Flight of the Order of the Phoenix 1:34
18. Loved Ones and Leaving 3:15