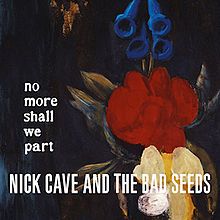 8/10
Nick Cave brings his piano-based
The Boatman's Call
-style hijinks to its follow-up,
No More Shall We Part
, but thankfully he brings the Bad Seeds along with him this time. Cave also expands his lyrics--his love life and religious musings are still sung about, but he has expanded their scope. He is certainly in a different place than he was the decade before, reportedly clean and sober after years of drug and alcohol abuse, but new perspective or not, things don't seem so insular this time.
What works here, for me at least, is the atmosphere created by the band and Cave's lyrics. 1996's
Murder Ballads
brought to mind a dark, terrifying English countryside, and
No More Shall We Part
seems to re-imagine that place, minus the murder, during an introspective, early spring day, indoors. With all the references to gardens and windows and women sitting in quiet rooms, the reliance on Warren Ellis' emotional, atmospheric violin is fitting. Thankfully, this isn't just the piano and violin show, though, as the full band, guitars, drums, bass, and the lot get to exercise their muscle throughout. This certainly isn't one of Cave's louder albums, but with more full and complex musical accompaniment, the more introspective nature of this older, wiser Cave's lyrics are only heightened. In other words, this album doesn't bore me like
The Boatman's Call
does.
I wish I didn't have to couch this review in such metaphysical language, and compare it so much to its predecessor, but after Cave took such an unexpected left turn into softer sounds in the late 90's, these two albums are explanatorily interdependent. Some people compare
No More Shall We Part
negatively to
The Boatman's Call
, calling it more of the same, but less inspired, but those people are huge fans of
The Boatman's Call
. As someone who is not, I enjoy that Cave took the elements from that album I did enjoy, and more fully fleshed them out.
Whatever, I think I've made my point.
2001 Mute Records
1. As I Sat Sadly by Her Side 6:15
2. And No More Shall We Part 4:00
3. Hallelujah 7:48
4. Love Letter 4:08
5. Fifteen Feet of Pure White Snow 5:36
6. God Is in the House 5:44
7. Oh My Lord 7:30
8. Sweetheart Come 4:58
9. The Sorrowful Wife 5:18
10. We Came Along This Road 6:08
11. Gates to the Garden 4:09
12. Darker with the Day 6:07