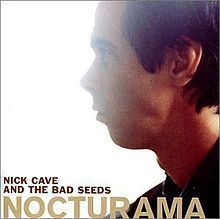 6/10
Reviewing all 15 of Nick Cave and the Bad Seeds' full-length original albums is starting to give me a big picture of the band's catalogue. The start out guns blazing, then struggle just a bit to find a sound, then discover it, deepen it, better it, perfect it...then they blow the whole thing up with a trilogy of albums that play against their strengths.
The Boatman's Call
, while critically heralded, is a quiet snooze-fest.
No More Shall We Part
is a bit more exciting, enjoyable enough, but far from the band's best.
Nocturama
feels unfocused and middling.
Hey, woulda'ya know, I'm on
Nocturama
right now. Let's not waste too much time on it, as Nick Cave and his crew certainly didn't (
Nocturama
was recorded in one week).
Nocturama begins with "Wonderful Life," a very cool sounding song featuring an awesome bass and drum groove and some nice piano lines. The production sounds great. Things are looking up. But then comes back-to-back boring ballads, "He Wants You," and "Right Out of Your Hand," and the moment just dies.
Thankfully,"Bring It On" resurrects it. "Bring It On" is one of most blustery, attitude-filled songs in Nick Cave's oeuvre. It's full of awesome braggadocio, as Cave and guest vocalist, Chris Bailey (of The Saints), dare the world to do what the title says, over ferocious drum rolls, a gnarly guitar line, and a ripping bit of violin. Here's an extremely low quality of the band + Bailey ripping up Letterman in exactly the fashion I just said.
The song also spawned a video that is borderline obscene, but perfectly fitting.
Thankfully, the album doesn't immediately back down from this promise of excitement. "Dead Man in My Bed," continues "Bring It On"'s high energy...but when "Dead Man in My Bed," is through, the album just sort of dies. It isn't that the second half is bad, it is just uninspired. The songs hold no magic. Even the 14-minute closer, "Babe, I'm on Fire," tells far more than it shows, with the band playing the same groove with little variation for its duration, and Cave just rattling off all the people that say he is "
on fire
." It's a lame closer to a half-baked album, only salvaged from mediocrity (or rather, cooked to completion) by the kick in the seat of its midsection. Thus, the trilogy ends.
Now, let's get back to the good ones.
2003 ANTI-
1. Wonderful Life 6:49
2. He Wants You 3:30
3. Right Out of Your Hand 5:15
4. Bring It On 5:22
5. Dead Man in My Bed 4:40
6. Still in Love 4:44
7. There Is a Town 4:58
8. Rock of Gibraltar 3:00
9. She Passed by My Window 3:20
10. Babe, I'm on Fire 14:45