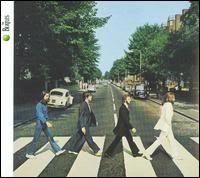 10/10
And here are The Beatles, teetering on the brink of world domination and absolutely falling to pieces.
Abbey Road
is the last thing they ever recorded together (
Let it Be
, which I will review tomorrow, was actually recorded before
Abbey Road
, but released with production tweaks after). From the first notes of the album, it's clear The Beatles are at the peak of their powers, and as each anthem rolls off their guitars into the eternal vaults of history, it's also clear that time simply doesn't allow such things to continue.
Even songs that could be toss offs, like "Octopus's Garden," are elevated. This is, afterall, a song written by the drummer, only the second song he's ever written, about being octopuses and living on the ocean floor, and it's still somehow timeless. When even your "C" songs are elevated to "A" songs, you can pretty much do no wrong, and on "Abbey Road," The Beatles don't. George Harrison's two tracks on
Abbey Road
, "Something" and "Here Comes the Sun," sound as if Harrison tapped directly into Heaven. His guitar arpeggios and lead lines throughout the album are so far elevated above what he was doing on
Please Please Me
, I'm tempted to go back to my previous way of life of never listening to that album at all. John's guitar playing is almost baroque at times. Paul is singing and writing better than ever. Ringo pounds at the drums in a frenzy--he almost sounds like Keith Moon at points. Also, there are Moogs. Every member of the band is working at the peak of their artistic and technical prowess.
Then of course there's that whole rock opera thing on side two. The energy and zest of this section has been long noted, and I can't really add comment. It's awesome, and it leads to perhaps my favorite Beatles song, "Carry that Weight." I think it's my favorite because it showcases something The Beatles always did well, taking a simple phrase and infusing it with meaning simply by singing it. "
Boy, you're gonna carry that weight, carry that weight a long time
," is sung with conviction by all four Beatles together and gives the feeling of inescapable time, and that the things we do and endure don't just go away. It's pretty tough stuff, and the line in the middle of the song, "...
and in the middle of the celebrations, I break down
" sums up the idea well, and is also heartbreaking in it's delivery (I won't even go into the obvious parallels this has with where The Beatles were at this point in their career and their imminent breakup). This last medley of songs, "Golden Slumbers/Carry That Weight/The End," is the best thing the band ever did, says me.
Everyone gets
several
solos during "The End" before Paul's final line "And in the end, the love you take is equal to the love you make," which is about as good an ending as this band could have hoped to have.
I mean, this guy thought the same, so really, it's gotta be so:
Of course, "The End" isn't even the ending to this album, let alone The Beatles' career. After several seconds of silence, Paul comes back solo for the lovely, 23 second, "Her Majesty," which is easily the best 23 second song ever.
I hope
Let it Be
is the best 35 minute and 16 second album ever, but I hear it is not. I have never listened to it outside of the singles, so I guess I will find out. I doubt it will come close to
Abbey Road
, though, which is as good a swan song as any band could ever hope for. It solidifies The Beatles place in history. These songs will be floating around the Earth's atmosphere until it burns into nothing.
1969 Apple Corps
1. Come Together 4:19
2. Something 3:02
3. Maxwell's Silver Hammer 3:27
4. Oh! Darling 3:27
5. Octopus's Garden 2:50
6. I Want You (She's So Heavy) 7:47
7. Here Comes the Sun 3:05
8. Because 2:45
9. You Never Give Me Your Money 4:02
10. Sun King 2:26
11. Mean Mr. Mustard 1:06
12. Polythene Pam 1:12
13. She Came in Through the Bathroom Window 1:58
14. Golden Slumbers 1:31
15. Carry That Weight 1:36
16. The End 2:21
17. Her Majesty 0:27