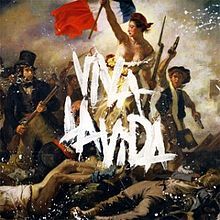 9/10
In a way, Coldplay's
Viva la Vida
picks up right where their previous album,
X&Y
, left off. In a way, however, the Coldplay of
Viva la Vida
sound like an entirely different band. The "we want to be the biggest band in the world" ambition from
X&Y
is intact, but the primary colors of that album have blazed to neon. Actually, at the risk of sounding like I am inappropriately speaking of something else entirely, I think the best word to describe
Viva la Vida
is
"colored."
Each track feels completely different from the last, a command from visionary producer Brian Eno that the band followed. This diversity of sound seems to open up vocalist/lyricist Chris Martin to greater possibilities. He seems past pondering mysteries. Now he seems to have actually lived. He *gasp* uses the word "love," seems to have a sex drive, has ideals, wants to fight for things, and most importantly, sounds like he means it. When he breaks into the first of only two piano recitals on the album, the surprise ending to "Lovers in Japan," it is almost shockingly moving. I inexplicably cried the first time I heard it because I genuinely didn't expect it. Coldplay went from overusing the sound of Martin alone at his piano, to making it an asset.
"Violet Hill" features, again for Coldplay, shockingingly political lyrics. In fact, just about everything that happens on this album is a reversal of expectations, but the dividends don't drop on repeated listens when the surprises have worn off. Underneath all of the new ornamentation and international flavor, Coldplay have written some genuinely wonderful songs. After detailing the existence of love and life amid war (even the whimsical "Strawberry Swing" contains the line "
Everybody was for fighting/wouldn't want to waste a thing
") throughout the album, Martin uses the closing track "Death and All of His Friends" to drop his most definitive statement ever over the band's most triumphant sounding moment yet:
No, I don't want to battle from beginning to end
I don't want a cycle of recycled revenge
I don't want to follow Death and all of his friends
I think this is unarguably the most powerful moment of Coldplay's catalog, and perhaps the most beautiful. You can hear so much life and desire in Martin's voice, it is almost impossible to believe this is the same guy who whimpered "
and they were all yellow
" eight years before. He and has band have gotten better with age.
2008 Capitol
1 Life in Technicolor 2:29
2 Cemeteries of London 3:21
3 Lost! 3:55
4 42 3:57
5 Lovers in Japan/Reign of Love 6:51
6 Yes/Chinese Sleep Chant 7:06
7 Viva La Vida 4:01
8 Violet Hill 3:42
9 Strawberry Swing 4:09
10 Death and All His Friends 6:18