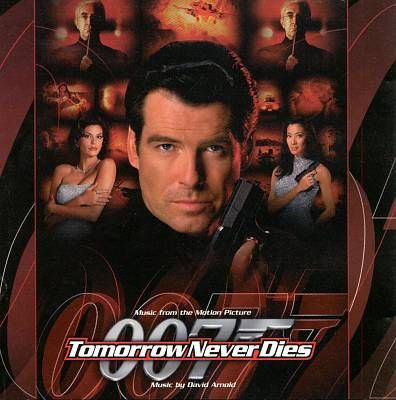 7/10
The first-released soundtrack for the James Bond film, Tomorrow Never Dies, is weird. I don't mean that the actual music is weird, just the presentation. For one, it was released before the score was even completed. For this reason, only music from the first half of the film is featured (It was re-released three years later with all of the score and none of the additional tracks this version features). For two (how come people never say "for two?" It makes sense!), much of the music is based around musical themes laid out in the opening song, "Surrender," written by composer David Arnold and sung by k.d. lang...only it's not actually the opening song of the film. The producers decided lang wasn't a big enough name (maybe she should start capitalizing it!), and replaced her and Arnold's song with an entirely different Sheryl Crow track. Because the studio made this decision at the last minute, Sheryl Crow's "Tomorrow Never Dies" doesn't relate musically to any of the themes David Arnold composed. It's a decent song, but nothing great. It certainly shouldn't have replaced lang and Arnold's work, which acts as a musical codex for the rest of the film. Lang's track did end up in the film's end credits, and second to last on this album, but the whole film shares the same issue as its soundtrack: good enough, but something that could have been entirely better if it wasn't rushed due to changes.
As it is, the half a score we get from Arnold here is pretty good. He brings his big brassy sound to Monty Norman's classic James Bond theme, while adding electronic and techno elements at other times to aurally update the franchise. The best track, "Backseat Driver" also coincides with the film's most entertaining scene (even if it reduces Bond to a button-pusher). The piece, which backs a car chase, is a team-up of Arnold and super-cool British band, Propellerheads (I'll get to them many letters from now).
Propellerheads also scored the lobby shootout in The Matrix, so they know their way around an awesome bassline. They also need to produce another album. It's been fourteen years since the last one.
Moby inexplicably lends another dance-music track, though this one is not found in the film. It is listed as "James Bond Theme" and is simply Moby's take on the iconic anthem. Perhaps it was added to fill more time. Whatever the case, it's an enjoyable addition, just as the majority of Tomorrow Never Dies soundtrack is enjoyable, though the incomplete feeling just can't quite be shaken.
1997 A&M
1. Tomorrow Never Dies (Sheryl Crow) 4:47
2. White Knight 8:30
3. The Sinking of the Devonshire 7:07
4. Company Car 3:08
5. Station Break 3:30
6. Paris and Bond 1:55
7. The Last Goodbye 1:34
8. Hamburg Break In 2:52
9. Hamburg Break Out 1:26
10. Doctor Kaufman 2:26
11. *-3-* Send 1:17
12. Underwater Discovery 3:37
13. Backseat Driver (with the Propellerheads) 4:37
14. Surrender (with k.d. lang) 2:56
15. James Bond Theme (Moby) 3:12