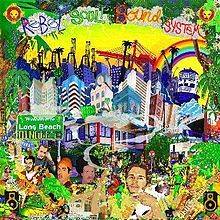 9/10
The Dingees'
Rebel Soul Sound System
is an album with the weight of the planet on its shoulders. This is the most global-sounding album the band have ever released, and the most slowed down, filled with sound. It's also the most political work by the socially conscious band yet, as the nine years since the Dingees last album have only seen the state of the world grow worse. That's not to say that
Rebel Soul Sound System
is a downer. It's just as fun as The Dingees' previous releases. The album just feels heavier.
Dissonance is a major element adding up to this weight. The Dingees' have never layered this many sounds atop each other: guitars, bass, drums, percussion, horns played both conventionally and unconventionally (and not just trombones or saxophones--also flutes, clarinets, flugle horns, etc.), music and voice samples, multiple keyboards, organ, electronics, and multiple vocals of both sex. With this much going on, the band lose most of their dirtier punk edge (but not all, and certainly not in attitude), but increase the reggae influence, and pick up some hip-hop and drum n' bass tones. What results is a thick, internationally flavored stew of an album that flows steady and unstoppably through musical streets as graffiti-drenched as its cover.
The weight of time is upon this album, as well. The samples and horns especially give
Rebel Soul Sound System
a both timeless
and
timely feeling, as if it represents the oppressed throughout history.
Overall,
the
Rebel Soul Sound System
isn't really what one would expect from a Dingees' release, but it's an extremely satisfying album, and like all of the band's work, sounds like no one else. Who else has nine minute songs in whatever genre this is?
Download the entire album for free at the band's behest!
EDITOR'S NOTE
: This might be the last you hear from me for a while. Take care.
2010 International City
1. Sound Depression 3:00
2. Test the Champion - The Hardest Game 4:48
3. Blackout! 3:20
4. street vs. state - Global Tribal - reconstruction 6:26
5. Capital Imperial 1:58
6. Still on the Move 4:20
7. Port Royal Sound 3:26
8. Mercy Triumphs Over Judgement 3:19
9. Smoke Signals 9:42
10. Who Stole the Soul in Rock N Roll 5:06
11. I'll Be'Neath the Canopy 5:38
12. Everybody Today 2:10
13. One Inch Equation 4:48