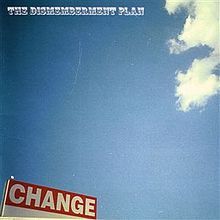 9/10
For their last trick, The Dismemberment Plan progress naturally while subverting all expectations. Front man, Travis Morrison, refers to
Change
as The Dismemberment Plan's "night album," but the artwork consists entirely of photographs of a mid-day sky. Yep,
Change
is difficult. But it's easy, too.
No, I'm not going to do one of those AV Club style editorial reviews where what I am writing lives or dies on me tying what I am reviewing into some abstract element of life. I mean, nothing against the AV Club, but if I'm reading a review on a show about a high school teacher who cooks crystal meth and blows up people, I don't want insight on how this is just like my own life. I shop at Wal-Mart and get dizzy when my two-year asks me to spin him. I watch shows like the one about the meth-cooking school teacher because it has NOTHING to do with my own life. Man, Breaking Bad is awesome. Anyway, what was I doing?
Oh, yes, reviewing The Dismemberment Plan's last album of original material,
Change
.
Change
is kind of about change, and I have spent quite a few nights the last decade or so listening to this album in the dark, wondering what the heck I am going to do with my life.
Change
is also a change of pace for the band, musically. There are no frenetic moments. The keyboard is more atmospheric and less computerized apocalypse. If anyone ever wanted to toss the term alternative toward the band, they could do it here, if that term even means anything. Travis Morrison never freaks out once, instead often singing in a smooth falsetto. The band don't really lose any energy in the process, though.
Change
contains a lot of atmosphere and ambiance that The Dismemberment Plan's magnum opus,
Emergency and I
, does not, even if it isn't quite as engaging and immediate as that album. Or to cut the crap,
Change
isn't perfect like The Dismemberment Plan's previous album, but it's still really, really good.
Change
begins with a trio of musically interconnected songs. "Sentimental Man" rises out of a haze of morning, sounding at first like an atheist manifesto before revealing itself to be multiple viewpoints of unexpectedly sentimental men. This leads directly into "The Face of the Earth," a metaphysical reflection on a short-term relationship that stretches The Dismemberment Plan's dynamic skills to a pretty lovely place.
This leads directly into "Superpowers," a brooding, reflective song that again proves my theory that The Police transferred their consciousnesses into The Dismemberment Plan members' heads after
Synchronicity
. I don't need any evidence because this song proves me correct.
Man, I have listened to this album so many times over the last decade, I might as well just keep going track by track. Sorry, slow readers... "Pay for the Piano" is a high energy track about owning up to things, before "Come Home" takes things down a couple levels. "Secret Curse" is a paranoid song about being so unfortunate, a hex is the only plausible explanation. The song is dead serious, and I sometimes wonder how an earlier iteration of the band would have performed it. As it is, it's a decent middle to the album.
"Automatic" is The Dismemberment Plan's only acoustic song, though it does include some nice little electronic touches, and it ain't happy. "Following Through" is though, and it is a good pick me up. It leads into "Time Bomb," similar to the stay away from me attitude of "Secret Curse." Man, being an adult is difficult sometimes.
The strains of every stressful moment of
Change
are tied together in "The Other Side," a beautiful song featuring an unbelievable performance from drummer, Joe Easley, and also the bass line from The Police's "The Bed's Too Big Without You." As usual, my theories are always correct. Did that previous sentence contain a double positive, therefore creating a negative? Is that even a thing? What am I talking about? Here is the song.
Beside Joe Easley's hand-blistering performance (the nerds at the D-Plan show I attended couldn't even keep up with the rhythm, which made me sad for them), "The Other Side" has the remarkable power of achieving its title. It's like a strong wave carrying the listener to the ultimate "it's all going to be okay" of "Ellen and Ben." "Ellen and Ben" focuses on two people the singer apparently knows who become so into each other over a couple of years, they virtually break contact with everyone else, then breakup and never see each other again. Then Morrison suddenly finishes the song with his own status update: "
Well, I'm doing fine/I'm staying busy hanging with my nephew/ and trying to keep my eyes on the prize/ you know how it goes/ and so do i so call me if you can now/ you know how i love a surprise.
"
It's as if he's avoided other's drama and moved past his own to reach some place of happiness. I blame this song for breaking up the band. And from The Dismemberment Plan, this is it. Except for that weird re-mix album, which I will review tomorrow. Also, life doesn't just end when you are happy. Other stuff happens to wreck your life up, and then you have to deal with that, and you're happy for a while, and then other stuff happens, and then on and on and on til you die. Okay? So time to start making some new music again, guys.
2001 DeSoto Records
1. Sentimental Man 4:16
2. The Face of the Earth 4:46
3. Superpowers 4:48
4. Pay for the Piano 3:23
5. Come Home 5:05
6. Secret Curse 2:50
7. Automatic 4:16
8. Following Through 4:38
9. Time Bomb 4:24
10. The Other Side 3:45
11. Ellen and Ben 5:01