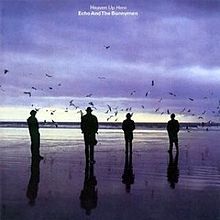 10/10
Heaven Up Here
is the coolest album ever made. The rhythm section have just arrived by train to kill you. The drummer pounds out an avalanche of tom-toms and snare falling around the noose of basslines that drag through the depths. A thirty-one year old album is not supposed to sound this good. Ian McCulloch's jangling rhythm guitar cuts through thin chords as Will Sergeant's lead sets off bombs in its wake. McCulloch howls and wails in the tempests, sings moodily through the quiet moments, and generally wreaks havoc. All manner of freaky echo and sound follow behind. By only their second album, Echo and the Bunnymen are at the top, and they know it.
What U2 Were Doing At the Time:
U2's second album,
October
, was released just a few months after
Heaven Up Here
.
October
shows U2 looking for their identity in a way, not just musically, but spiritually, and as people. Bono's lyrics were stolen right before U2 had to record, and he was forced to rewrite them in a crunch. While U2 were searching and yearning, Echo and the Bunnymen were driving toward exactly what they wanted, even if it led them off a cliff. The focus helped.
Heaven Up Here
is a post-psychedelic masterpiece, while
October
is a lesser, but still enjoyable entry into U2's cannon.
2003 Edition Bonus Tracks:
Though
Heaven Up Here
has the least amount of bonus tracks of the 2003 Editions, all five are extremely high quality. "Broke My Neck" is a long, skeletal, trippy number featuring one of the greatest recorded non-solo guitar solos ever. Echo literally had to climb a mountain to record "Broke My Neck," and it conjures images of cold midnight mingling with red amplifier lights upon their faces as they forge it. "Broke My Neck" is followed by four live songs that show just how powerful and commanding the Bunnymen's live performances had become by this point. Overall, these bonus tracks only add to an already perfect package.
1981 Korova
1. Show of Strength 4:50
2. With a Hip 3:16
3. Over the Wall 5:59
4. It Was a Pleasure 3:12
5. A Promise 4:08
6. Heaven Up Here 3:45
7. The Disease 2:28
8. All My Colours 4:06
9. No Dark Things 4:27
10. Turquoise Days 3:51
11. All I Want 4:09
2003 Reissue Bonus Tracks
12. Broke My Neck (long version) 7:22
13. Show of Strength (live) 4:41
14. The Disease (live) 1:53
15. All I Want (live) 3:09
16. Zimbo (live) 3:52