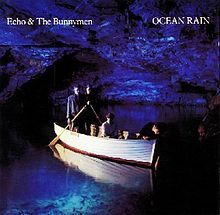 10/10
Echo and the Bunnymen's
Ocean Rain
is a delightful late night dance through a watery graveyard. If that doesn't make any sense, I'm sorry, but I can't think of any points of reference. This sounds exactly like my description, and no other album I've heard does.
Ocean Rain
is a completely unique work. The claustrophobia of
Porcupine
has been replaced with wonderful, haunting room to breathe.
Ocean Rain
is about as relaxed an album as possible, but still contains buckets of mystery and tension.
Also, it's fun. Plus, you've got Ian McCulloch wrestling with God, his band wildly succeeding in sounding gentler without losing an ounce of their edge, dynamic, swashbuckling strings, so natural it's like they're not even there, and enough water and ocean references to make you want to schedule a vacation for the next eclipse.
What U2 Were Doing At the Time:
At the same time that Echo and the Bunnymen were releasing what might be their best work, U2 were doing the same, at least in my opinion. U2's
Unforgettable Fire
is the impressionistic sound of U2 finally letting go and freely falling into the artistic current. There is no agenda, no searching insecurity, just a moment in time captured impeccably. It's an absolutely gorgeous, emotional album. One day I might get to reviewing it. I've still got seventeen letters to go.
1984 was a great year for both of these bands. Even though I was barely peddling a tricycle, I'm glad to say I was around.
2003 Edition Bonus Tracks:
A lot of bonus tracks here. The first is "Angels and Devils," an odd kind of throwback 60's rock song. This is aptly followed by a very pleasant, respectful live cover of the Beatles "All You Need Is Love." I also like how Ian McCulloch tosses his own past lyrics and those of other bands into the end of the song as a sly counterpoint to the Beatles doing the same in their original version. There are four other songs taken from this live session, two from the Bunnymen's debut album, and three from
Ocean Rain
. These are actually filtered through a 60's screen, as well, with the additional harpsichord, cello, bongos and woodwind backup the band had during the previous "All You Need Is Love" cover fully present. Strange that the first six bonus tracks sound fifteen years older than they are, but they are pretty magical recordings. The final two live tracks are
Ocean Rain
's "My Kingdom" and "Ocean Rain," taken from a more traditional theater show, and are announced by Ian McCulloch as coming from "The Greatest Album of All Time." He then proceeds to sing the songs like he means it. It's a great ending to this excellent collection of music.
1984 Korova
1. Silver 3:22
2. Nocturnal Me 4:57
3. Crystal Days 2:24
4. The Yo-Yo Man 3:10
5. Thorn of Crowns 4:52
6. The Killing Moon 5:50
7. Seven Seas 3:20
8. My Kingdom 4:05
9. Ocean Rain 5:12
2003 Edition Bonus Tracks
10. Angels and Devils 4:34
11. All You Need Is Love (Lennon–McCartney) (live) 6:44
12. The Killing Moon (live) 3:27
13. Stars are Stars (live) 3:07
14. Villiers Terrace (live) 6:00
15. Silver (live) 3:22
16. My Kingdom (live) 4:01
17. Ocean Rain" (live) – 5:18