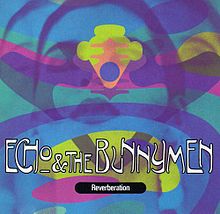 7/10
Their drummer deceased, and their vocalist gone solo, Bunnymen guitarist, Will Sergeant, and bassist, Les Pattinson, were on their own. Bravely, they decided to forge ahead. Picking up Noel Burke on the microphone, Damon Reece on the drums, and a cadre of Indian instrumentalists, Echo and the Bunnymen released 1990's
Reverberation
. With all the trippy instruments, Beatles' fabled engineer, Geoff Emerick, producing, and Will Sergeant leading the show with his guitar as if he is the
Hookah-Smoking Caterpillar
from
Alice's Adventures in Wonderland
,
Reverberation
is possibly the most psychedelic album the Bunnymen ever recorded, and certainly the most British. The British part can also be attributed to Burke's thick-sounding vocals, which could have spawned from no other land.
Despite this one-time singer switch-up (original vocalist, Ian McCulloch, would be back for all following albums), Sergeant's guitar and Pattinson's bass-playing are unique enough to make this still sound like a Bunnymen release--today, one could possibly fool a newcomer by telling them McCulloch was actually the singer, and just had a cold during the recording.
Reverberation
's songs are actually a little better on average than the ones found on the self-titled Bunnymen album that preceded it. These tracks are less bland on the whole, even though there are less standouts. The band's once razor edge may be nearly non-existent, but at least they sound like they care this time. In fact, the more one listens to
Reverberation
without the expectation of McCulloch's vocals, the better the album sounds.
It may have been a failure in its time, but in 2012,
Reverberation
isn't a bad way to spend 45-minutes. It's a mostly mellow trip, but one worth taking.
What U2 Were Doing At the Time: After finally suffering some measure of defeat with their sixth album,
Rattle and Hum
, U2's Bono announced that the band was going to "go away and...just dream it all up again." The Bunnymen were in the middle of doing the same thing, but unfortunately, it didn't work out as well, and they were soon to break up...for a little while.
1990 WEA Records
1. Gone, Gone, Gone 4:13
2. Enlighten Me 5:01
3. Cut & Dried 3:47
4. King of Your Castle 4:36
5. Devilment 4:44
6. Thick Skinned World 4:18
7. Freaks Dwell 3:51
8. Senseless 4:55
9. Flaming Red 5:33
10. False Goodbyes 5:40