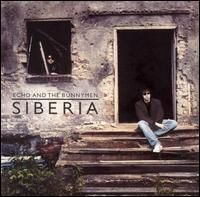 8/10
Now this is what you want your band to sound like when your members are coming up on fifty. Enlisting Hugh Jones, the producer of
Heaven Up Here
, arguably the Bunnymen's finest album, Echo and the Bunnymen release,
Siberia
, their most rocking album in more than twenty years. Finally those four classic early 80's albums receive their worthy successor. Sure, it isn't as gritty as those albums, but the instruments are turned up, Ian McCulloch finally goes back to more than just crooning, and all bets are off. Even when the band aren't rocking hard, Jones has the wisdom to turn up the knob. For the first time since their early work, the Bunnymen sound like they are in your face instead of just lounging around in the next room. On top of that, the songwriting is stronger than it's been in years. Best of all, the Bunnymen finally tackle a song nearly as aggressive as
Heaven Up Here
's "Over the Wall." That song is "Scissors in the Sand," and it's the best track the band have put to tape since Reagan left office.
Will Sergeant receives special praise here, as his guitar gets the workout it's so long deserved. The hired backing band do an admirable job rocking as well.
Siberia
isn't an all out audio assault, however. The reflective side of the band that's taken over as of late is tempered by Jones into true grit instead of schmaltz. Album closer, "What If We Are?" might have gotten the syrupy vibraphone and strings treatment of some of Echo's more recent ballads, but Jones brings McCulloch's cigarette strained voice to the absolute fore. Dropping out all other instruments for the final twenty seconds, Hugh ensures that McCulloch's final, aging pleas get the resonance they deserve.
And thus ends the storied career of one of the best bands in history. Just kidding, they released the completely inconsequential,
The Fountain
, four years later, but lets just act like that didn't happen.
What U2 Were Doing At the Time:
U2 were coming off the huge financial success of their eleventh album,
How To Dismantle An Atomic Bomb
, though Bono later admitted that artistically, the album didn't achieve the goals or standards that the band set out with. That's not something Ian McCulloch or Will Sergeant had to cop to after
Siberia
, which exceeded all expectations.
2005 Cooking Vinyl
1. Stormy Weather 4:24
2. All Because of You Days 5:44
3. Parthenon Drive 5:11
4. In the Margins 5:06
5. Of a Life 3:44
6. Make Us Blind 4:00
7. Everything Kills You 4:17
8. Siberia 4:56
9. Sideways Eight 3:16
10. Scissors in the Sand 5:29
11. What If We Are? 5:09