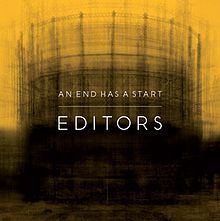 8/10
What the heck, let's ramble. And let's make it one paragraph. My first year of marriage was like a film. Some people say that Kirk Cameron firefighting marriage movie is cheesy and unrealistic. I disagree because I pretty much lived it, except I worked at the library and helped people log on to the computer and find books about kittens instead of rescuing children from burning buildings. Once my wife and I hit somewhere around our seventh or eighth month of marriage, I suddenly started to feel this quiet ecstasy in my heart that after everything my wife and I had been through, we were going to make it. When you are young, you generally think the whole Earth is a stage set just for you, and I certainly did. Editors'
An End Has a Start
hits that perfect, over-dramatic sweet-spot that reflected my state of mind at the time. It's a huge sounding album about life and death and all that kind of stuff. I can't really listen to it without remembering that time, and feeling a gratitude that those optimistic feelings paid off. Looking objectively at this album, it's slightly top-loaded, but not as badly as its predecessor. It doesn't lose momentum like
The Back Room
did, and is a step up from that album's post-punk sound, adding huge, monolithic slabs of guitar (once again indebted to Echo and the Bunnymen) to its mix. Frontman, Tom Smith, isn't really interested in any small things on this album. "
We've all been changed from what we were, our broken hearts smashed on the floor
." Man, that's growing up right there. Hey, you know who else had their hearts broken a couple of times in 2007? The
LSU Tigers football team
. They lost two heart-breakers that season in triple-overtime. But did they give up? No. My wife hates football, but I wish there was a way I could explain to her how much that football team taught me a "don't give up, ever" attitude that kept me strong in our marriage that year. Of course, both people have to end up having that attitude. If one person isn't giving up, and the other person doesn't care, then eventually, it's over. If Les Miles didn't have faith in his players, he wouldn't have let them go for it on fourth down five times. But they all had faith in each other, and EVERYONE worked for it. That was definitely an instance of sports being inspirational, at least for me. This is what I'm talking about.
At the start of the new year, LSU was holding a National Championship trophy, and my wife and I were beginning our second, incredibly-better-than-the-first year of marriage. And I felt like a man, having gone through the hard truths and heartaches of life, but coming out stronger. In several ways,
An End Has a Start
is all about that. My wife and I fully lived the hyper-dramatic lyrics of track three, "The Weight of the World." "
You touch my face, God whispers in my ears, there are tears in my eyes, love replaces fear."
Those might be over the top, but when you are 25, face failure that seems insurmountable, miraculously climb over it, they are pretty apt. Then again, in reverse of my high school attitudes, everything doesn't apply to everything. Anyway, I like this album, but I am probably biased.
2007 Kitchenware/Fader Label
1. Smokers Outside the Hospital Doors 4:57
2. An End Has a Start 3:45
3. The Weight of the World 4:18
4. Bones 4:06
5. When Anger Shows 5:45
6. The Racing Rats 4:17
7. Push Your Head Towards the Air 5:44
8. Escape the Nest 4:43
9. Spiders 4:00
10. Well Worn Hand 2:54