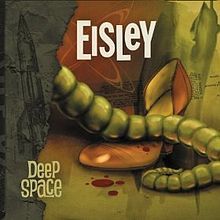 8/10
Eisley's Deep Space E.P. shows the band continue to grow and mature as they tinker with their sound between albums. "Lights Out" is a little more atmospheric and darker than Eisley usually shoot for, but it's quite good. "Laugh It Off" is even darker and moodier, sounding like a gentle rain in space. Speaking of space, "Deep Space" launches the band through the exosphere. I could have been trendy and writery, and said "stratosphere," but I'm a nerd. The Exosphere is the point where the Earth's atmosphere merges with outer space. There's the science lesson for the day. "Deep Space" aims for a kind of power and lift Eisley have never ventured near, but my does it work. Kudos to Sherri DuPree-Bemis for pushing her songwriting to another level as she crafts a sci-fi lovestory set to the most soaring, distorted chorus the band have recorded to date.
Also, kudos to Sherri's sister, Stacy King, for becoming an absolute force of nature in the middle of this track. While Stacy only lends one song to the five on this E.P., she plays keyboards and sings trade off and background vocals throughout. There is a moment 2:15 into "Deep Space" where Stacy sings the line "breathe, breathe, breathe love" and literally (Yes, I just used "literally." This is happening)sounds like she is the sun beckoning a mortal being to breathe--on the last album she took Regina Spektor's crown; at this moment, on this particular song, it's like she has consumed Stevie Nick's soul. The power her voice displays now is incredible, and a
recent side-project
proves that this is no fluke. It's astonishing considering a decade ago she was just a meek girl hiding behind a microphone. Kudos should also go to the band's unsung hero-sister, Chauntelle DuPree D'Augustino, who unleashes a brief but excellent guitar solo after the bridge. With this song, and throughout the E.P., the band's brother-cousin rhythm section also shows continued growth and skill.
Unfortunately, the next track is a schmaltzy, old-timey acoustic ballad I could have really done without. "192 Days" first two lines rhyme "baby" with "crazy," and that's all I'm going to say about it. It precedes "One Last Song," which follows in the more melancholy, atmospheric vein of the first two tracks and leaves the listener maybe a little confused about what just happened, but looking forward more than ever to whatever Eisley do next.
2012 Equal Vision Records
1. Lights Out 3:31
2. Laugh It Off 4:39
3. Deep Space 3:40
4. 192 Days 3:44
5. One Last Song 3:52