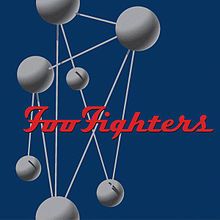 7/10
Like most people my age,
The Colour and the Shape
was my introduction to Foo Fighters. I don't remember when I first heard it, I only remember my excitement that the drummer from Nirvana had a new band, even if he wasn't playing drums in it (ironically, Dave Grohl plays drums on all but two of
The Colour and the Shape
's tracks. Taylor Hawkins became the full-time drummer a short while later).
The singles from
The Colour and the Shape
were and are certainly something to get excited about. "Monkey Wrench" and "My Hero" are both awesome, rocking songs. "Everlong" is not only the best song Foo Fighters have recorded, it's one of the greatest songs of all time. It probably deserves a video better than this still-awesome dose of late-90's weirdness.
The rest of
The Colour and the Shape
is so-so. There are quite a few filler tracks, but there are also some gems like "Walking After You" and "New Way Home." Basically, the first three songs are awesome, the last three songs are awesome, and the middle song is awesome. The rest is okay. The parts are greater than the sum. General cliche statement about buying the album for the singles. End review.
Just kidding, here's a NOTE:
Adding to the X-Files-first-movie-had-an-awesome-soundtrack thread I've been subtly weaving by
making additions
at the end of reviews with the word "note" in all caps, Foo Fighters re-recorded "Walking After You" for that film. Here's a fan-video someone made
Awesome.
1997 Roswell/Capitol
1. Doll 1:23
2. Monkey Wrench 3:51
3. Hey, Johnny Park! 4:08
4. My Poor Brain 3:33
5. Wind Up 2:32
6. Up in Arms 2:15
7. My Hero 4:20
8. See You 2:26
9. Enough Space 2:37
10. February Stars 4:49
11. Everlong 4:10
12. Walking After You 5:03
13. New Way Home 5:40