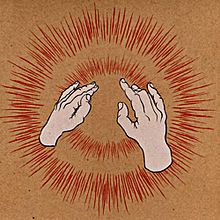 10/10
When I finished the first disc of Godspeed You! Black Emperor's
Lift Your Skinny Fists Like Antennas to Heaven
, I was dismayed to hear the exact same music on the second disc. Knowing Godspeed was eccentric, to say the least, I immediately worried that this was some kind of artistic statement on consumerism. Buy a double album, get the same album twice. I consulted Amazon and discovered that the tracks on the second disc had different run times than the ones on disc two. Now confident in not looking stupid, I sent the album back to Amazon and received a new one. This time, I didn't have two disc ones. I had discs one AND two. Thank goodness, because disc two features one of my favorite songs of all time, but we'll get to that.
Godspeed You! Black Emperor expand their formula on
Lift Your Skinny Fists
... They still make slowly-building, instrumental, string and horn-laden rock music, interspersed with voice samples and found sounds. What sets
Lift Your Skinny Fists...
apart is how it takes a page from its predecessor in the band's catalog,
Slow Riot for New Zerø Kanada
, and transforms it into a bigger, better story.
Slow Riot...
features thirty minutes of well-written music that flows together wonderfully.
Lift Your Skinny Fists...
somehow improves on the already perfect songwriting of its predecessor, and stretches the whole thing out to 80-plus minutes of music. The 80-minutes fly by as Godspeed explore just about every emotion a human is capable of feeling. Sadness, anger, fear, happiness, joy, they're all here, and they all flow together as naturally as any album that's been put together by anyone.
If there's a highlight that somehow sets itself above the rest, it's disc two's "Sleep."
"Sleep" begins in a bleak place and grows so desperate, it seems the track will collapse under its own weight. That's when the band begin their unstoppable train of victory that somehow tops itself again and again in loftier and loftier fashion, until the listener feels like they could beat beat a swarm of lions in a fistfight, despite being a double amputee. Befitting an album of its stature,
Lift Your Skinny Fists...
does such a great job of earning "Sleep"'s final ten minutes, the song never feels over the top. In the last decade, few songs have inspired me like this one. "Sleep" is an incredible achievement.
The best part about "Sleep," though, is that it is not the album's final track. "Antennas to Heaven" closes things out in such an incomprehensibly ethereal place, it's hard to listen to anything else afterward and not feel sorry for the incompetence of the composer. They are never going to make anything like this. For that matter, neither will the current incarnation of Godspeed. That's okay. One 87-minute masterpiece ought to do it.
2000 Constellation/Kranky
Disc 1
1. Storm 22:32
2. Static 22:35
Disc 2
1. Sleep 23:17
2. Antennas to Heaven 18:57