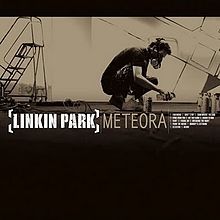 9/10
Meteora
may just be Linkin Park's finest album, and I greatly undervalued it upon its release.
In early 2003, it was not cool to like Linkin Park. They at least had better cred among music snobs than say,
Creed
, but Linkin Park had just ended the most successful (to this day) album cycle of the 21st century. They were looking to start on the next, and snobs were not supposed to be interested.
I owned and hadn't a negative word to say about
Hybrid Theory
, but I was too far up Radiohead's caboose to give a lick about some rap-rock band.
Meteora
came out, and I passed on it for weeks. Eventually, Linkin Park came to town on their second annual Projekt Revolution Tour, taking one of The Nicsperiment's all-time favorite bands, Blindside, in tow. I had to go, and go I did. The show did not disappoint. Linkin Park put on an energetic, polished, yet raw performance, and I figured I might as well give them another $12 and pick up
Meteora
. I bought it, enjoyed it for a few weeks, but also bought into the media hype that
Meteora
was just
Hybrid Theory
part 2. I mean, they rap and sing, and all the songs are under four minutes. Same thing as their first album, right?
Meteora
and
Hybrid Theory
are not the same album. They are equal in quality, but they are not the same.
Hybrid Theory
is more polished, and features catchier singles with bigger hooks.
Meteora
features a vaster soundscape than
Hybrid Theory
, with a greater variety of samples, giving it more of a cinematic feel. It also features a bit more raw of an edge. The closest the two albums get is that their second tracks have a similar GET OUT OF MY FACE feel and feature no rapping.
Meteora
immediately distinguishes itself with the guitar effects wizardy and huge opening chords of track three, "Somewhere I Belong." "Somewhere I Belong" sounds bigger and more evocative than anything found on
Hybrid Theory
. The only major similarity is that it lyrically continues
Hybrid Theory
's themes of taking personal responsibility. That's a factor of Linkin Park's first two albums that isn't talked about enough. Where many of the lesser bands of the period where whining about other people making them messed up and ruining everything, Linkin Park was more apt to say, "Hey, you might have screwed me over, but my problems are because of me." Hence "Somewhere I Belong's" pre-chorus of "
And the fault is my own.
" Not many bands of the period were brave or clear-headed enough to say such a thing.
After a couple of fun, heavy tracks, the band really begin to experiment, first with the atmospheric, reflective "Easier to Run," then with the extremely infectious fun of the 140-beats-a-minute "Faint."
Hybrid Theory
featured nothing as purely enjoyable as "Faint," and honestly, I don't think any other rock band's release from 2003 did either. The video conveys the band's enthusiasm, and also shows off a bit of the set Linkin Park used for the Projekt Revolution Tour.
"Breaking the Habit" closes out
Meteora
's experimental midsection with another self-reflective, atmospheric track. The lyrics are again inward-focused, the music more electronic than anything Linkin Park had done at that point. The song may just be the best example of the more cinematic sound I referenced above, and the anime-video the band helped create for the song makes these aspirations explicit.
I don't mean to skip the straight-forward rock songs in this review, but the experimental ones are just a bit more interesting to me. I'll use this moment to make clear that everyone of those songs is good stuff. They rock hard, but they also contain that touch of Linkin Park professionalism and perfectionism, as during this period, the band was known to record a million versions of a song before they were finally happy with the result. But back to the experiments.
Track 11, "Nobody's Listening," centers around a fun Japanese-flute sample, and contains a more unique feel than possibly anything else the band have done, as I can't think of any song by ANYONE else that sounds remotely like it. The combination of rapping and singing, along with the flute sample, should not mix well, but the song is addictive and insanely listenable. "Session" is a dark, atmospheric, piano-led instrumental, leading into album closer, "Numb." I think the biggest similarity between
Hybrid Theory
and
Meteora
is both albums' key flaw: lack of an epic closer. While "Numb" is far from a bad song, it would be nice if
Meteora
ended with something...bigger. Outside of that,
Meteora
is an excellent album.
A FINAL NOTE:
I've spilled a lot of megabytes
on how the 21st Century continued the late 90's fun-time party, with a huge dose of "THE WORLD DIDN'T END!!!" optimism, until 9/11 squashed the whole thing and sent us down a darker path. I think
Meteora
marks the final extension and official end of that fun-time party. I mentioned the word "fun" a lot in this review, and as dark as it can be,
Meteora
has fun in spades. However, pretty much after this, nothing was ever fun again for anyone. This is evidenced by the fact that Linkin Park's next album,
Minutes to Midnight
, contains not even the least trace of fun, and talks about hurricanes and wars, and BOO, BOO,
BOO!!!
But I'll get to that in the next review.
2003 Warner Bros
1. Foreword 0:13
2. Don't Stay 3:07
3. Somewhere I Belong 3:33
4. Lying from You 2:55
5. Hit the Floor 2:44
6. Easier to Run 3:24
7. Faint 2:42
8. Figure.09 3:17
9. Breaking the Habit 3:16
10. From the Inside 2:55
11. Nobody's Listening 2:58
12. Session 2:24
13. Numb 3:07