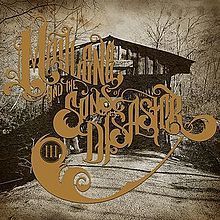 7/10
I talk about how I am constantly looking for a new Björk. Even though she just put out a
pretty great album
, it's no secret that Björk is no spring chicken. At least she's alive, though. Most of Lynyrd Skynyrd is dead. I love Lynyrd Skynyrd.
Well, why didn't you review them, The Nicsperiment reviewer guy?
Because I landed on the Lynyrd Skynyrd portion of the alphabet in November of last year, and in November of last year,
this happened
, I decided to skip old Lynyrd Skynyrd. Let's just say that on Sunday, November 9th, on a family trip to the Denham Springs, Louisiana Bass Pro Shop, I complained to the manager after hearing "Sweet Home Alabama" on the music intercom. I was not the only complainer. Several of the cashiers had to leave the store and go outside so they wouldn't punch a customer. College football is a big deal in the South.
Anyway, Maylene and the Sons of Disaster are not Lynyrd Skynyrd. Not even close. Skynyrd hit on more of a delta blues and boogie sound, at which Maylene only hints on their third album,
III
(really only on the opening guitar riff of
III
's "Listen Close.") This is heavy music, more indebted to the indigenous sounds of Appalachia than the big muddy. I picked up
III
during the summer of 2009, hoping to scratch my Skynyrd itch. Because this was my sole aim, I didn't appreciate what
III
was attempting to accomplish. It has taken nearly seven seasons of FX's Justified, which premiered a year after
III
was released, to ease my ears into
III
's banjo touches and whiskey jug slaps.
On it's own merits,
III
is a pretty decent album. The guitar riffs are heavy and technical. Vocalist, Dallas Taylor, sounds like the dude from AC/DC, if the dude from AC/DC had drank an entire fifth of whiskey filtered through every cigarette ever made. The rhythm section is adequate. Track three, "Just a Shock" is one of the better mixes of heavy and poppy I've heard. Dallas Taylor shows he can sing smoothly, if a little high and dirty in the chorus, though the verses and guitar are ferocious enough. Track five, "Step Up (I'm On It)", with it's banjo and foot-stomping is catchy enough to have foundd its way into a video game and a Sons of Anarchy episode. Actually, in many ways,
III
and Sons of Anarchy are reminiscent, with all the stories of repentant and not-so repentant outlaws. Really, the two are a match made in heaven. Track six, the (as above-mentioned) Skynyrd-esque "Listen Close" is a sad, personal, and rather prophetic song from the road, as Taylor senses his marriage slipping away due to distance.
IV
, released two years later, drops a lot of the outlaw stuff to chronicle Taylor's divorce. I'll review that one in a couple of days.
The effect of switching between grittier songs, and ones with a little gloss is enjoyably dizzying, but the three tracks after "Listen Close" fall into a same-y funk that drags down the album. By the time the banjo and old-man singing of track ten,"Oh Lonely Grave," kick in, it's a little too late to revive the album. Closing instrumental "The End Is Here...The End Is Beautiful" is lovely, like a Southern meadow at twilight, but by then, the album already feels over.
So in the end,
III
does a lot of cool things, but just can't sustain the momentum of its opening half. But while
III
isn't Skynyrd, Maylene do have their own musical identity that is well worth checking out.
2009 Ferret Music
1. Waiting on My Deathbed 4:03
2. Settling Scores by Burning Bridges 3:52
3. Just a Shock 3:13
4. Last Train Coming 2:31
5. Step Up (I'm on It) 3:28
6. Listen Close 3:40
7. The Old Iron Hills 2:33
8. No Good Son 2:49
9. Harvest Moon Hanging 3:24
10. Oh Lonely Grave 4:12
11. The End Is Here... The End Is Beautiful 5:11