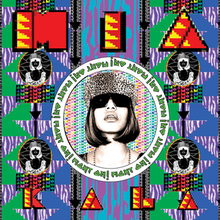 8/10
It's a dance pop album. I hate that kind of crap. A few seconds in, and it's a repetitive beat under repetitive, monotone rap-speaking. Then the song gains momentum. Then the beat blows up and all these weird samples come in. Then, all of a sudden, I'm having fun. How is this happening? Same thing happens with the next two songs, Asian drums booming, strange samples abounding, though I feel I'm soon to grow tired of this sound. But wait, track four is some kind of Indian-subcontinental disco-song? Where did this come from? I hate disco, but this song is actually interesting and fun. That's okay, because no way can she keep this up. But wait, track five is serious business. The hook is somber, but somehow the song is still enjoyable. Then it's "Mango Pickle Down River," and it sounds like its title. So far,
Kala
has displayed more sonic texture and color than I thought anything in this genre could be capable...of displaying. Then "20 Dollar" hits. If you're gonna sample the Pixies' "Where Is My Mind," you better do it right, and I'm not sure anyone could do it better and more mind-bendingly than this. And then, what?
Track eight, "World Town," is kind of crazy, but it's immediately followed by "The Turn." "The Turn" is all melancholy, and I'm actually feeling, like, emotions, man. Then "XR2" comes on, and it might be a misfire, but it's immediately followed by the now 00's classic, "Paper Planes." What a contagious song, but I don't feel like I just paid a Las Vegas woman $500 for an hour of her time when it's over. Then "Come Around" ends the album, and I want to listen to the whole thing again. I haven't heard anything quite like M.I.A.'s
Kala
, before or since. Is there a more international sounding album performed in English?
Sometimes, it's worthwhile to be surprised.
2007 XL/Interscope
1. Bamboo Banga 4:58
2. Bird Flu 3:24
3. Boyz 3:27
4. Jimmy" 3:29
5. Hussel (featuring Afrikan Boy) 4:25
6. Mango Pickle Down River (with The Wilcannia Mob) 3:53
7. 20 Dollar 4:34
8. World Town 3:52
9. The Turn 3:52
10. XR2 4:20
11. Paper Planes 3:24
12. Come Around (featuring Timbaland) 3:53