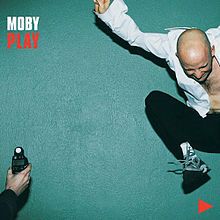 10/10
Early June, 1999
I am driving the field road between Lakeland's Immaculate Conception Catholic Church on HWY 416 and the old Pourciau's Pharmacy on the Chenal. I am listening to KLSU, and the DJ is raving about the new Moby record,
Play
. "It's magnificent!" he says before playing a song called "Porcelain." The song features ethereal keyboard textures, a piano that sounds like the song title, a distant, old-sounding sample of an old man singing the blues, and Moby himself, singing in a slightly monotone, yet expressively sad voice. I like the song well enough, but at this time in my life, the summer before my Senior year of high school, I am absolutely inundated with new sounds, absorbing music like sand does water. I do not realize that this is the best year of my life, though I am certainly enjoying myself.
February 13, 2000
This night turns out to contain one of the most spiritual moments of my life. I have to work my job at Wal-Mart until nine, therefore missing that night's episode of The X-Files. The X-Files is my favorite show, and I have never missed an episode, so I have set my VCR to record it; after seven seasons, this episode is purported to finally contain the resolution to the mystery of what happened to Agent Mulder's sister. I get home and turn on my VCR, rewind the tape. I programmed the VCR to begin recording at 7:45, and I am horrified that when I press play, I see static instead of moving picture. I fast forward, and at around 7:58, the picture finally resolves itself, but horror of horrors, the broadcast features no sound. My mind races, and I remember my 20-inch tube television is equipped with closed-captioning for the hearing impaired. I turn on the CC and read the episode's dialogue in silence. This strange sensory-deprivation is at once deeply disappointing and deeply affecting. In the end, it turns out that Mulder's sister was spared a horrible fate many years ago by the heavens, and she lives as starlight with the souls of other spared children in endless, blissful childhood. The climactic scene features Mulder reuniting with his sister's soul in a starlit field, and suddenly, as she runs to him, my television speakers come to life, and the most beautiful song I have ever heard slowly rolls across the incomprehensible distance between heaven and my ears.
The song is "My Weakness," by Moby, from his album
Play
. I am greatly satisfied by this resolution to The X-Files long running abduction mystery, and I immediately want to purchase Moby's
Play
.
February 19, 2000
I purchase
Play
from Blockbuster Music the day before, on the way to a Church Youth Group trip. I don't like my church, I seriously doubt the existence of God, and the event we attend ends up putting me to sleep. During an altar call, I stay at my seat and have my own, violent conversation with God. In agony, I demand a sign of his existence from the deepest pit in my heart, and to my supreme amusement, the giant movie screen the event has been using to guilt teenagers into taking expensive, pocket-lining mission trips, suddenly bursts into flames. It is at this moment that I realize that the intense, difficult, personal relationship I have with God, which runs deeply beneath and at odds with my fake church's "everything is roses because if you give us all your money you'll be rich and happy" relationship with God, is actual the real one of the two. On the drive home, after having a far different experience than my temporarily fired-up peers (who, never forming that personal, non-church-dependent relationship with a higher power, are now mostly atheists), I play
Play
on my mom's mini-van's compact disc player.
Play
doesn't sound like "My Weakness" overall, and my mom is weirded out by it, but when I get home, I lie in my bed with the lights off, listen to the album again, and have yet another intense moment in what is turning out to be a uniquely powerful string of spiritual experiences.
Spring of 2000
I unpack and dissect
Play
over the rest of the next few months, as I prepare for my high school graduation. In my public life, I apologize to a few people at my high school for previously acting like a dick to them, as my heart is now feeling the healing fires of conviction, as opposed to the previous church-enforced guilt that wasn't getting me anywhere. Speaking of church, several of my peers give testimonies about the youth trip in bouts of short-lived fire (their arms burned with a torch, while a white-hot, slow burning flame has been ignited deep within my soul), but I refuse, my personal experience my own business, another act of open defiance that will continue until I am happily and forever out the door. Meanwhile,
Play
amazes me. I (and well...everybody) have never before heard anything like it. Moby combined his usual genre, house music, with old field recordings of spirituals and blues songs, along with his own singing, and atmospheric, ambient instrumentals. While Moby has put out other fine works,
Play
is that lightning in the bottle that should shatter the glass and kill everyone, yet someone manages to be contained, perfect, brilliant, beautiful,
July, 2015
Play
still amazes me. I can't understand how Moby took these simple old recordings, added a little piano, keyboard, some drums and bass and the rare guitar, and achieved such a magical, timeless final product. Added to that,
Play
's structure is serendipitous. Moby
purposely front-loads
the album with the songs more heavily featuring gospel-samples, as well as with the rockier "Southside," the dancey-oddball "Bodyrock," and the "I'm on every drug and I'm banging my head against the wall" techno-furor of "Machete," scattering in only a few of the prettier, more laid back tracks. He then unloads a wave of meditative emotion on the final seven songs, including the previously mentioned closer, "My Weakness." I wish words could express how transformative an experience this album was 15 years ago, but I firmly believe one could listen to it for the first time today and have the same type of encounter.
1999 V2 Records
1. Honey 3:27
2. Find My Baby 3:58
3. Porcelain 4:01
4. Why Does My Heart Feel So Bad? 4:23
5. South Side 3:48
6. Rushing 2:58
7. Bodyrock 3:34
8. Natural Blues 4:12
9. Machete 3:36
10. 7 1:00
11. Run On 3:44
12. Down Slow 1:32
13. If Things Were Perfect 4:16
14. Everloving 3:24
15. Inside 4:46
16. Guitar Flute & String 2:07
17. The Sky Is Broken 4:16
18. My Weakness 3:37