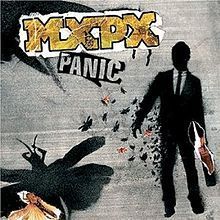 7/10
Long-time Nicsperiment readers know that if there are two things I like to do, they're 1. Changing erroneous Wikipedia entries 2. Talking about stuff that happened 10 years ago.
Up until five minutes ago, the Wikipedia entry for MxPx's seventh full-length album,
Panic
, read:
It (Panic) also leaves the pop punk sound off their previous album and returns to their skate punk/punk rock roots.
That sentence was not only horribly written, but false, but it's okay, because it no longer exists. I deleted it. If you see false information on Wikipedia, I encourage you to do the same.
Panic
does not return to MxPx's skate punk/punk rock roots in the least. That classic MxPx tap-boom-tap drum sound is never even approached (even the pop nightmare of their previous album,
Before Everything and After
, contains two token "skate-punk" songs). Thankfully, though, unlike
Before Everything and After
,
Panic
does actually rock for the most part. In fact, the first five songs could be the start of the most emotionally intense MxPx album ever.
Opening track, "The Darkest Places," talks about the world getting darker by the day and number two, "Young and Depressed," is about what it's called. "Heard That Sound" is about being locked out of a club, standing in an alley, but finding hope in the music coming through the wall. Track three, "Cold Streets," is also about what it says. Number five, "The Story," is about how life can be quite a difficult one. These latter two tracks aren't blazing speed skate-punk songs like the band blasted out in the mid-to-late-90's, but they are quite heavy and show off an aggressive side MxPx had only hinted at before. The first three songs aren't as heavy, but they rock harder than anything on
Before Everything and After
.
Then we come to "Wrecking Hotel Rooms," a dark, yet extremely fun duet with blink-182's Mark Hoppus. The song is a modern update of The Police's "Every Breath You Take (in both sound and stalker topic). I know some people hated this collaboration as much as I hated the ones on
Before Everything and After
, but Mike and Mark actually harmonize here--the song sounds like it was written with Mark in mind, as opposed to a cheap cash-in, and anyway, these two guys go way back. This is a fun, yet melancholy song, easy on the ears, and a little dark ("
there's really no reason to call the police
(GET THE DOUBLE MEANING?! DON"T CALL THE POLICE BECAUSE OF MY STALKING AND ALSO THIS SONG SOUNDS LIKE THE POLICE. WHY AM I THE ONLY ONE WHO GETS IT?)"). What's not to like?
The polarizing "Wrecking Hotel Rooms" divides the album between the good half, and the not-so-good half. The band immediately pull out of the whole "emotionally intense" thing for "Late Again," a hillbilly pop song sing-along that would be far more at home on //*Mike's current Tumbledown project...it's not bad, but it is out of place. "Kicking and Screamin*g" is an embarrassing pop-rock song. "Grey Skies Turn Blue" is a cheesy pop song in the vein of
Before Everything and After
, and it's also a re-tread from a previous EP.
"Emotional Anarchist" is the worst song MxPx have ever recorded and literally contains the chorus "
You're an emotional anarchist/you're pissed cuz you've never been kissed
." Actually, it's one of the worst songs I've ever heard, and I struggle to describe its badness because I can barely even comprehend it, but now that I've reviewed this album, I never have to listen to it again.
"Call in Sick" is a song about Mike missing his wife while he's on the road, and while it is quite poppy, itself, the lonely tone of the lyrics fits in with the first half of the album. In fact, the rest of the album fits in with the first half.
Those stupid four songs in the middle ruined the whole tone, though, and there's no going back. Take them out, and this is a really good, if really short, ten-song MxPx album. "Get Me Out" is heavy enough to actually feature Mike screaming, and more fully explores the topic of fear. "Get Me Out" fits with the title of the album, and if I had produced
Panic
, I would have cut the middle tracks out and allowed
Panic
a cohesive sound and theme. Have I mentioned that I don't like tracks 7-10? "Waiting for the World to End" is a great apocalyptic pen-ultimate track, and it highlights the core-sound of this album, which is energetic hard rock and NOT SKATE PUNK.
"This Weekend" closes the album out on a positive, triumphant note, and feels earned after the previous two songs, but it would feel far more cathartic if the entirety of the album had been more consistent with the sound and mood of the first six tracks. So in the end--wait, my arms are tired from repeatedly hitting this stupid horse that can't fight back because it's dead and bloated--okay, so in the end, I truly believe that
Panic
could have been considered an underground, underrated classic, a dark gem in MxPx's otherwise bright discography, but instead it only comes off as a lesser jewel in a crown full of far finer stones. Stones, man.
Hey, this review has a promised, but brief second part, and that's talking about stuff that happened ten years ago. A few weeks before
Panic
was released, I was in a deep depression, unemployed, and alone in my parents' empty house in the middle of nowhere. I had almost completely forgotten about MxPx, but one night I happened upon the Fuse channel, which in 2005 was all about showing rock videos (Fuse, G4, Wonder Showzen, and Degrassi: The Next Generation were my dawgs that summer), and I saw MxPx riding out to me from the desert.
The sound of "Heard That Sound" gave me a ton of hope, even if the album itself didn't exactly whet my whistle.
ADDED BONUS! I purchased
Panic
at the Baton Rouge FYE (on a rare trip into town), along with Dredg's
Catch Without Arms
, as I saw the video for "Bug Eyes" on that very same night. Man, Fuse was on fire that summer.
2005 SideOneDummy
1. The Darkest Places 2:35
2. Young and Depressed 3:05
3. Heard That Sound 3:40
4. Cold Streets 2:46
5. The Story 3:31
6. Wrecking Hotel Rooms 3:26
7. Late Again 2:35
8. Kicking and Screaming 2:52
9. Grey Skies Turn Blue 3:04
10. Emotional Anarchist 2:02
11. Call in Sick 3:00
12. Get Me Out 2:10
13. Waiting for the World to End 3:46
14. This Weekend 3:21