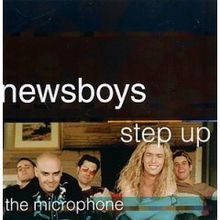 8/10
Why don't I just dive into the track-by-track, and work everything else I want to say into that? I want to, and it's happening.
1. "WooHoo" The song kicks off with distorted guitar, and it looks like
Step Up to the Microphone
is going to pick up right where its predecessor,
Take Me to Your Leader
, left off. Then the drums come in, and they are electronic.
Take Me to Your Leader
, an alternative rock album, featured live drums and instruments. These creatively restless Aussies just can't do the same thing twice. At least that's the way the 1994-2003-era Newsboys rolled. First there was a dance-rock album. Then an alternative album. But what is this?
2. "Step Up to the Microphone" Looks like the electronic drums are here to stay. The guitar is distorted, but there's something a little bit sunnier about this music. Nice horns before the verses...so subtle I almost didn't notice they were there. A lot of people complained about Newsboys ditching what made the previous album work. Admittedly, going back to
Step Up to the Microphone
now, it's aged remarkably well.
3. "Entertaining Angels" My brother picked this album up on cassette back in the day, and this song perked up my head down the hall a little more than the rest of the tracks. It's more of a ballad type song, but it's got some strange inspirational power. I don't mean Thomas Kinkade painting "inspirational." I mean actual fire you up inspirational. This was a big hit for Newsboys, and it should have been. The local sports radio show sometimes uses the intro for "Entertaining Angels" as their comeback from commercial music...in 2015.
4. "Believe" It's generally unwise to follow a ballad with a ballad, but these two songs compliment each other very well, almost like the latter is a continuation of the former. The guitar lines are very similar in a way that one almost mirrors the other. Also, I love this song's strings.
5. "Tuning In" There's a charming attention to detail in this song, fun, breezy horns carrying it along to a lovely Spanish guitar section. There's also a great Spanish guitar outro, where Peter Furler plays until he makes a mistake, then laughs at himself. The light-hearted outro makes the preceding four minutes even stronger
6. "Truth Be Known -- Everybody Gets a Shot"
Step Up to the Microphone
marks the first time since Newsboys burst onto the Christian music scene, that they have braved an album recording without Steve Taylor at the helm. Frontman, Peter Furler, decided to go it alone here. He also wrote most of the lyrics himself. While Taylor once penned the lion's share, his only contribution to the entirety of
Step Up to the Microphone
is the lyrics to this song, as well as "Tuning In." Furler co-wrote all of the lyrics for the album. While they aren't as sharp as Taylor's, they aren't bad lyrics, still dealing, on the whole, with the Christian life. Also, there's the line "
You carry more baggage than a momma's boy on your first day of school
." That line isn't from this song (it's on the first track), which is just okay, yet still extremely catchy. I remember hearing my brother singing along to it from off the hall. It features a sort of 1998 industrial pop crunch that's strangely non-threatening, yet addictive.
7. "Deep End" Pairs with its predecessor just the way tracks three and four did, but I think this is the album's weakest track. I saw Newsboys perform live around the time this album was released, and while the show was really fun and energetic, I had already moved on from that particular scene. It was all indie-rock and metal for me. While a lot of people slagged on
Step Up to the Microphone
for being too different, I simply didn't care that it existed.
8. "Hallelujah" Then I went through that period in early 2000 I described in this
Moby review
, when I rededicated my life to my faith. I really wanted to listen to things that edified that part of my life, and remembering my experience the previous summer at Boys State (where I found a Newsboys cassette in my backpack and had a serendipitous moment), Newsboys became a go-to band. I'll get to that more in the next review, though. Let's finish up this one. "Hallelujah" is close to techno-rock, but its bagpipes-esque guitar, particularly in the outro, lifts the song to rare heights. It shouldn't work, but it's pretty ascendant.
9. "The Tide" Once "The Tide" rolls on in, it's clear, especially in hindsight, that the Newsboys were on to a bit more musical experimentation than listens way back 17 years ago might have conceded. "The Tide" is a slow-moving mass of pulsating noise, featuring drones, programming, ambient noise, and a gentle, wave-bobbing guitar line (and bassist Phil Joel on lead vocals). Plus, there's the hypnotic, circular lyrics, about waiting on God.
10. "Always" Likewise, and giving the album yet another pair, "Always" follows suit, plugging along minimalistically, this time about an absent father, but where"The Tide" ends with space, "Always" finds its conclusion in a powerful outro about renewal and forgiveness, "
Take these pieces thrown away/put them together from night and day/washed by the sun/dried by the rain/to be my father in the fatherless days
." One of the more powerful moments on any Newsboys album.
So all in all, this might not be the strongest Newsboys album, and it might not match its predecessor, but 17 years on,
Step Up to the Microphone
holds its own, and might have even aged into something better than what it seemed to be when it was released. Gotta love those 90's.
1998 Star Song
1. WooHoo 3:15
2. Step Up to the Microphone 3:43
3. Entertaining Angels 4:18
4. Believe 4:33
5. Tuning In 4:17
6. Truth Be Known - Everybody Gets a Shot 4:00
7. Deep End 4:06
8. Hallelujah 3:56
9. The Tide 5:01
10. Always 5:01