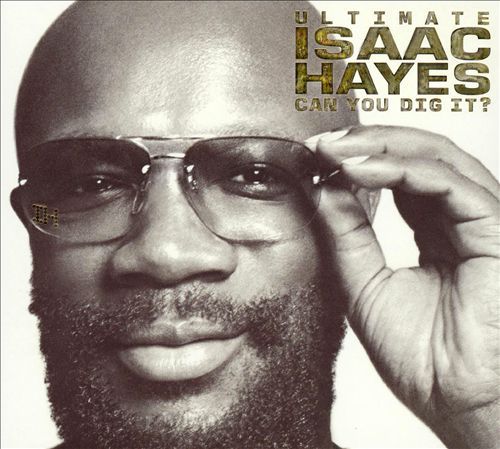 8/10
Isaac Hayes created the coolest music that had ever been made. This singer, composer, and multi-instrumentalist put out a cover of Burt Bacharach's "Walk on By" the exact same week in history that The Beatles' released
Abbey Road
. Isaac Hayes' "Walk on By" is cooler than all the cool found in Abbey Road, and in fact, The Beatles' entire discography. I say this
as a Beatles fan
.
The guitar riff 43-seconds into the song destroys all prior notions of cool. "Walk on By" has been sampled and copied too many times to note. Without this song, some of my favorite bands, Portishead in particular, probably wouldn't exist. It rules.
This Ultimate Isaac Hayes
collection contains "Walk on By" and plenty of Hayes' biggest, coolest jams. Hayes also liked sentimental love songs. He pioneered the symphonic soul sound that dominates to this day (as in a bunch of strings, brass, and woodwinds, mixed with more modern instruments). That might not be my favorite kind of song, but Hayes' charisma is ridiculous, and his compositions flawless, so I still find myself enjoying them.
Ultimate Isaac Hayes
does a brilliant job of mixing and piecing every side of Hayes together. The ratio of love songs is pretty equal to the...well, actually Hayes did a great job of making songs like that cool anyway. The fact that he often refers to himself in the third person as "Ike" makes it all the better. If you can make love songs cool, you probably have some serious skills.
Case in point, "I Stand Accused," where Hayes propositions an engaged woman. The song begins with a five-minute monologue. It's obvious within the first minute that Ike wants this lady to leave her man for him, but his windup (which includes his entire life story) is so excellent, the confession that finally comes with his singing is as funny as it is convincing. Of course this girl is gonna leave "John" for "Ike." "John" will probably give his blessing.
2005 Stax
Disc One
1. Theme from Shaft 3:17
2. Precious, Precious 2:43
3. Hyperbolicsyllabicsesquedalymistic 9:39
4. Ain't That Loving You (For More Reasons Than One) 4:24
5. Never Can Say Goodbye 3:38
6. By the Time I Get to Phoenix 7:07
7. Soulsville 3:48
8. Wonderful 3:41
9. Help Me Love 5:30
10. Need to Belong to Someone 5:15
11. Good Love 5:18
12. The Look of Love 3:20
13. Do Your Thing 3:20
14. For the Good Times 5:23
15. I Stand Accused 11:35
Disc Two
1. Walk on By 12:04
2. Joy, Pt. 1 4:40
3. His Eye Is on the Sparrow 4:14
4. Brand New Me 8:35
5. If Loving You Is Wrong (I Don't Want to Be Right) 4:32
6. Someone Made You for Me 4:04
7. Baby I'm-A Want You 4:40
8. Let's Stay Together 3:35
9. Theme from The Men 4:00
10. I Can't Help It (If I'm Still in Love with You) 4:25
11. Title Theme from Three Tough Guys 2:36
12. Run Fay Run 2:48
13. Chocolate Chip 3:50
14. Come Live with Me 3:26
15. Disco Connection 3:41
16. Rock Me Easy Baby, Pt. 1 3:34
17. Medley: By the Time I Get to Phoenix/I Say a Little Prayer 4:35